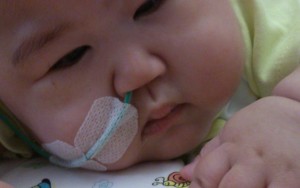 Crowdfunding campaigns to raise money for surgery for a premature baby from Singapore have raised nearly a half million dollars.

Metro reports two-year-old Baby Yujia lives with several maladies including a blood clot in her brain, holes in her heart and a rare condition which causes her stomach not to connect properly with her esophagus known as Esophageal Atresia.

Yujia's mother was shocked to learn the price tag for surgeries to correct the conditions would cost $1.3 million at Boston Children's Hospital.

"My heart sank … I gave up on the spot," said Jamie Yun.

Three weeks ago she launched a campaign on Indie Go Go which has so far raised $148,000. Another on the site Give Asia has raised $300,000.

"We never thought the response would be that overwhelming," Yun said. "I just wanted to share our story to as many people as we could."

You could read more details of the struggles baby Yujia has had in her brief life and learn about the success many have had crowdfunding for surgeries in Metro and the clip below.