George Takei responded to Justice Clarence Thomas's dissent to the Supreme Court's decision last week legalizing gay marriage by calling him 'a clown in blackface,' reports The Hill.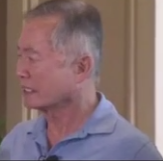 The actor and gay rights activist, best known for his role in Star Trek, expressed his frustration with the dissenting opinion in an interview with Fox 10 this week in Phoenix. His partner and husband stood beside him during the interview.



In his dissent, Thomas, an African American, wrote the lack of governmental benefits did not take away the universal human dignity guaranteed to all people. He mentioned slavery and internment camps as two examples of how human dignity persisted despite the harsh conditions.

"That vision is the foundation upon which this Nation was built. The corollary of that principle is that human dignity cannot be taken away by the government. Slaves did not lose their dignity (any more than they lost their humanity) because the government allowed them to be enslaved," wrote Thomas.

In response, Takei wrote an op-ed for MSNBC explaining the unfair treatment his own parents received as they were forced into a Japanese American internment camp.

"To deny a group the rights and privileges of others, based solely on an immutable characteristic such as race – or as in Obergefell, sexual orientation – is to strip them of human dignity and of the liberty to live as others live," wrote Takei.

In the interview with Fox 10, Takei also mentioned the rape scene in the movie 12 Years a Slave to emphasize the lack of dignity slaves had, contrary to Thomas's statements.

"This man does not belong on the Supreme Court," said Takei. "He is an embarrasment. He is a disgrace to America."

Takei has come under heavy criticism for his blackface remarks. Some have called him racist.
@GeorgeTakei Let me ask you a serious question. How are your comments about Justice Thomas not racist? I'll wait for an answer…#crickets

— Lil Ironman (@cjkuchar) July 2, 2015
@cjkuchar @southsalem @GeorgeTakei Just chalk his comments up to senility & low Ensure levels. He's an actor, he's not important.

— john q. MOG (@Necromancer54) July 2, 2015
Is a clown in blackface better or worse than a mime dressed up as a coolie? @GeorgeTakei

— Bizarro! Gojira! (@BizarroGodzilla) July 2, 2015


Takei, however, is standing firm on his comments. He posted this response on Facebook.


Where do you stand in this controversy? Let us know by adding a comment below.