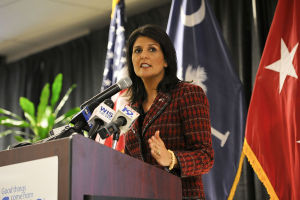 South Carolina Governor Nikki Haley is already being mentioned as a possible Vice Presidential nominee in the Republican Party, reports Legal Insurrection.

Talk about the Indian American governor surged after her call to remove the Confederate Flag from the State Capital in the wake of the massacre at a Black church in Charleston.

Conservative media such as the Washington Examiner and Fox News have reported on her possible candidacy and GOP candidate Mike Huckabee has sang her praises.

Haley's prominence on the national scene has fallen in recent years. During the last Presidential election, her name was tossed around as a possible candidate for the GOP nomination. That obviously did not happen, but in February, she received a 51 percent approval rating from state voters. That's the highest since she took office, according to Public Policy Polling.

You can read what some are saying about her in Legal Insurrection.