By Edwin Chen
Recently in Boston an elderly 72yr-old-Chinese American grandmother, Yuzhen Lei, was pushed to her death at the hands of a stranger.
24-year-old Tajanetta Downing is under arrest in the case. The tragedy highlighted the extreme lack of sympathy or RESPECT for Asian American seniors or elderly in America. As an Asian American I remember growing up seeing all of the RACISM and CONSTANT bombardment of discriminatory and hostile behavior by non-Asians hurled at our elders.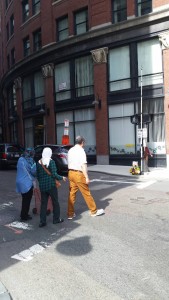 I used to think it was just because our elders were more foreign and unassimilated. They almost deserved the abuse because of their INABILITY or lack of desire to conform and be a part of mainstream American society. As an American Born Chinese, I navigate American society with ease in comparison to our immigrant elders lacking in English language skills. However as I started to study Buddhism and Siddhartha Gautama, the Shakyamuni Buddha, I became aware of the Buddha's sympathy for those beings who are old, sick, frail and expiring.
Siddhartha thought it was FOOLISH to laugh and make fun of these helpless and defenseless people. This was because he felt that eventually we would ALL decay into the same class of despair. He could see that our commonality should encourage our COMPASSION and hence respect for ALL living things as they suffer through the cycle of MOKSHA. More importantly he discovered that ALL living beings have the POTENTIAL to become a "Buddha" enlightened being. By reaching the state of Nirvana, one achieves escape out of the constant cycle of birth, suffering, death, reincarnation or rebirth that characterizes the cycle of MOKSHA.
I pray Yuzhen Lei is reborn again into a happy life or has become a Buddha based upon her tireless devotion to her family and community. All of us no matter how ASSIMILATED or respected we are now, will eventually AGE and decay into what LOOKS like a wrinkled FOBulous foreigner not worthy of ANY respect. It is in our INTEREST to defend our elders and their right to SAFETY in our own communities.
As Asian Americans we will ALL eventually face the same discriminatory challenges as we age into what appear to be FOBulous Asian American Seniors. This is why I ordered this memorial after I read on AsAmNews about the LACK of ANY memorial for Yuzhen Lei. I posted a REQUEST online at a few sites asking for help to place a memorial at the location of her demise. To my DISMAY I received NO support online in this endeavor. So I yelped the closest Chinatown florist and found Chaba Florists at 71 Stuart St, Boston, MA 02116 (617) 423-0468. They had CONFIRMED that no other memorial or flowers were placed in honor of Yuzhen Lei. So with the help of my dear friend Linda Chong, the wife of the respected and esteemed Asian American political Activist Gilbert Hom, I was able to borrow funds to make this memorial happen. I would like to thank Pam Toy at Chaba Florists for making such a NICE bouquet and banner at my request. I only wish I could afford a more elaborate and fitting one. Alas, I had to borrow from Linda to even make this happen. Thank you all for taking the time to hear my reasons for trying to show RESPECT and highlight this tragedy of the Chinese American and Asian American communities.