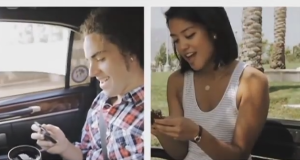 Filipino American Carissa Rae Alvarado and her husband Mike have become the first performers who gained fame on Vine to be signed to a major record label, reports ABS CBN.

Vine is an app which allows users to post six second clips which repeat on a loop.

The pair known as Us the Duo signed with Republic Record.

"It's crazy all of this just happened so quickly. We didn't realize we were going to get so many followers from this app, but we kind of just stayed consistent and kept on doing it. People like it so it was a lot of fun and for it to blow up the way it did, we're just really grateful that it all worked out that way," Carissa said.

The couple explained they just find the hook to popular songs and perform it on Vine. Oprah invited Us the Duo to join her on 'The Life You Want Weekend' tour.

You can watch some of their Vines and find out how the couple got together in the clip below from ABS CBN.