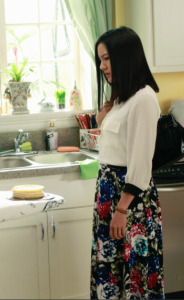 By Shirley N Lew
Missing from the Emmy Awards' Lead Actress in a Comedy category is a nomination for Constance Wu of ABC-TV's situation comedy Fresh Off The Boat.
Wu plays audience favorite Jessica Huang in the popular series.
The 67th Emmy nominations were announced earlier today and FOTB was nowhere to be found.
Fans took to Twitter to express their disbelief.
Constance Wu deserved a nom she was great in Fresh off The Boat.

— Victoria (@jupiterblack156) July 16, 2015
fresh off the boat is so good i can't believe it didn't get nominated tbh, constance wu is hilarious

— allie (@biggieslow) July 16, 2015
Sad Constance Wu isn't nominated for Fresh Off the Boat. Easily the best part of that show.

— Amy Leigh Strickland (@AmyLStrickland) July 16, 2015
We don't know why the Emmy's snubbed FOTB, but @IHateJoelKim sums it up for many of us.
Wake me up next year when Constance Wu is the first Asian American actress nominated in the comedy category!

— Joel Kim Booster (@ihatejoelkim) July 16, 2015
With FOTB absent from the nominations, will you still watch the Emmys? What is your message to the Emmys about their snub of FOTB? Share your thoughts with us.