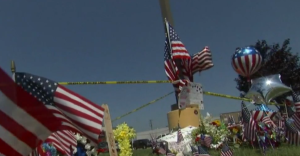 The recent killing of five military personnel in Chattanooga, TN by Mohammad Youssuf Abdulazeez has bought a renewed sense of urgency in the Muslim American community.
The FBI has not drawn any conclusion about any motive for Abdulazeez' action. He himself was shot and killed by authorities.
"We have to speak out against extremism, also elucidating what Islam is really about," Zaynab Ansari, a scholar in residence for the Muslim Community in Knoxville, told WBIR. "For the vast majority of Muslims, Islam is about peace, forgiveness, mercy. Unfortunately no religious groups are without its extremists."
Since 9/11, the Islamic Circle of North America has made dispelling the negative images of Muslim a high priority.
"It just makes it more relevant and important," president Naeem Baig told the Seattle Times. Baig's group has launched a billboard campaign across the country. "Muhammad always taught: 'Love Not Hate; Peace Not Violence,' " proclaims one of those billboards.
Thursday's shooting came just one day before Eid al-Fitr, the official day marking the end of Ramadan.
"When they talk about Syria, when they talk about Tennessee … what will they say about the American Muslim community?" Imam Mohamed Abdul-Azeez told his Sacramento congregation on Friday.
According to Reuters , he urged his congregation to combat Muslim extremism.
You can find out about the Muslim communities efforts in Reuters , the Seattle Times. and the clib below from WBIR.