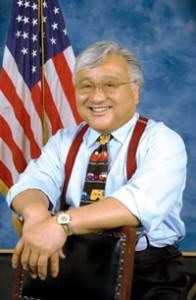 The House Ethics Committee is considering launching its own independent probe into suspected ethics violations by Rep Mike Honda (D-CA), reports Politico.
The committee made its announcement Monday after receiving details from the Office of Congressional Ethics, an independent ethics watchdog.
The story by San Jose Inside detailed emails between Honda's Congressional staffers and campaign staff about potential donors. Campaign ethics rules prohibits congressional staff from working on the campaign on taxpayer time.
"I am taking the unprecedented action of establishing a policy prohibiting my official staff from volunteering on my campaign. I believe this action provides clarity for the public and a bright line for my staff that far exceeds anything required by the House of Representatives," said Honda.
The House Ethics Committee is made up of five Democrats and five Republicans. It said it would make its decision by September 3.
The Office of Congressional Ethics launched its probe following a complaint from Ro Khanna who was engaged in a heated battle for Honda's Congressional seat during the 2014 campaign. Khanna has announced he is challenging Honda again in the 2016 election.