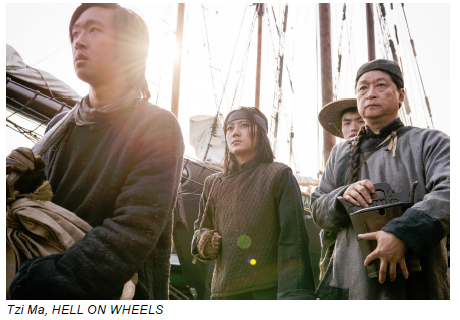 Asian CineVision and cable network, AMC will partner together
for the first time in festival history to screen the hit TV series, Hell on Wheels at the Asian
American International Film Festival. Asian CineVision recently announced that the festival will
show two episodes from the shows latest season (Season 5A) at Village East Cinemas on July
31 at 8:00pm. Admission is free, but will require that guests RSVP to the screening.
"Our mission at Asian CineVision has always been to shed light on important parts of the Asian
American identity. Whether that is through film or television, it's important that we give
filmmakers the opportunity to showcase their unique stories and tell the world how those
experiences have shaped their cultural identity. We feel it is important for us to share AMC's
series,Hell on Wheels, not only because it was a significant event in Asian American
history, but also because of its profound effect on millions of Asian Americans in the United
States," said Executive Director of Asian CineVision, John Woo.
Circling around the history of the transcontinental railroad and how immigrant Chinese workers
became an integral part of it's construction, this contemporary Western tells the story of Cullen
Bohannon, whose experience with Union Pacific's construction of the first transcontinental
railroad takes him westward into a lawless melting pot of a town called "Hell on Wheels". The
screening will also include special guest attendance by Executive Producer and Showrunner
John Wirth, and actors Bryon Mann, Tzi Ma and Angela Zhou.
"This festival means so much to me and I'm grateful to be here with you representing work I'm
extremely proud of," said Tzi Ma, who plays Tao in AMC's Hell on Wheels. "I've been involved
with Asian CineVision since Peter Chow launched it on a public access cable channel and
persuaded me to be a part of one of his home-grown videotaped shows about life in New York's
Chinatown. I'm so impressed by what has been accomplished since then. AAIFF, Asian
CineVision and Hell On Wheels are making history!"
In Season 5A, Cullen Bohannon finds himself a stranger in a strange land – the mountain town
of Truckee, California, home to the Central Pacific Railroad. This rough railroad town teems with
thousands of Chinese workers, foreign in language, culture and traditions. Despite the
challenges of corralling his new workforce, Cullen leads the herculean effort to tunnel through
the Sierra Nevada Mountains, sometimes achieving only inches a day in the race to complete
the first Transcontinental Railroad.
The event is free, but we ask guests to please email [email protected] to RSVP to the screening.