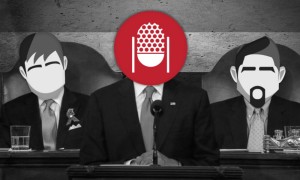 Second generation South Asian Americans now have a podcast that speaks from their experience.
American Desis is a new biweekly podcast from two Indian American entertainers.
"The generation above us is Indian," Arjun Gupta told India West . "As long as they've lived here, their formative years were in India, so they're dealing with less of this identity crisis than we are."
Gupta along with comedian Akaash Singh both produce and host the program.
The idea of a show about the ABCDs, American-Born Confused Desis, came from a conversation the two of them had that was overheard by a friend. The friend told them how funny the two of them were and thus American Desis was born.
 The show which launched in December originally targeted Indian Americans, but has since expanded. They quickly changed the name of the program from Indian, American. 
"We realized that 'Indian, American' was a little bit exclusive and didn't necessarily honor our desi brothers and sisters from Bangladesh, Nepal, Sri Lanka and Pakistan," Gupta said. "That's one thing we talk about a lot; that there's too few of us in America at this moment to segregate by those countries because … we have similar enough experiences that we're part of this American desi community."
You can find out more about their ideas for the program in India West .