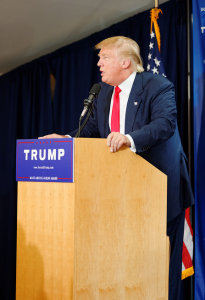 Donald Trump rose to the top of the GOP presidential polls largely because of sensational headline grabbing statements on immigration that appeal to the Tea Party and other conservatives in the Republican Party.
His position paper on immigration is based on three core principles.
A nation without borders is not a nation. There must be a wall across the southern border.
A nation without laws is not a nation. Laws passed in accordance with our Constitutional system of government must be enforced.
A nation that does not serve its own citizens is not a nation. Any immigration plan must improve jobs, wages and security for all Americans.
Why must we build a wall? Trump says many immigrants from Mexico are murderers and rapists.
In a blog on CNN, author Alex Nowrasteh points to data from the census bureau which shows increases in immigrant population has lead to a decrease in violent crime. In fact 1.6% immigrant men from 18 to 39 are incarcerated compared with 3.3% of American-born men of the same age.

Trumps America first philosophy assumes that immigrants take American jobs. In reality, immigrants fill gaps in the labor force not currently filled by American born workers. In other words, those jobs that immigrants are supposedly taking from American would largely remain unfilled if those immigrants were not here. Immigrants also increase American productivity.
Trump appeals to those who believe immigrants are a drain on America's resources. You can read Nowrasteh's thoughts on that and other components of Trump's plan on CNN,