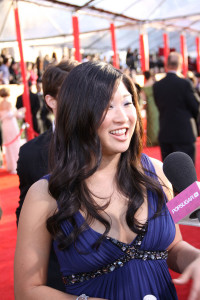 If reports circulating in various entertainment publications are true, a White actress won't be cast in the title role of Disney's live action remake of Mulan, reports VC Post.
Depending on which report you believe, the part will go to Glee's Jenna Ushkowitz or Marvel's Agent of S.H.I.E.L.D's Ming-Na Wen.
Pop Crush reports that Ushkowitz is in negotiations with Disney to play the title character.
Judging from this quote, the anonymous source Pop Crush is quoting is a big fan of the actress.
"Among the potential talent for Mulan, virtually none possesses the combination of star quality, relevant age, musical talent, and beauty Disney would need for its lead. It's unsurprising that fans are rallying behind Ushkowitz who, thanks to her long tenure as Tina Cohen-Chang on Glee, has significant credibility with this film's target audience."
Another fan favorite for the role has been Ming-Na Wen who played the voice of Mulan in the animated version. Ming-Na definitely has the bigger name of the two actresses mentioned and she has not been shy about publicly stating her desire to play the role.
There has been much fan anxiety that Disney might whitewash Mulan. A petition on Care2Care urging Disney not to do that has so far generated more than 76,000 signatures.