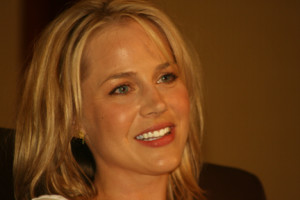 TV Line reports that Julie Benz of Dexter fame has been cast as a possible love interest for Daniel Dae Kim's character, Chin, on Hawaii-Five-O.
Being a co-star on an ensemble cast doesn't present an opportunity for lots of screen time.
It would be great to see Chin become more of an integral part of the plot instead of just a few minutes here, a few minutes there. Chin's contributions seem often limited to coming up with a piece of evidence that Danno and Steve McGarrett run with to solve the case.
Benz is expected to have a recurring role in three episodes. Hopefully any romantic interlude she might develop with Chin will lead to greater opportunities for Kim.
It's always nice to see an Asian American actor be seen as romantically appealing in television and the movies.
After six seasons, it's about time we see Kim take on a greater presence in the program.
Benz will play Jennifer. She's a San Francisco detective who's heading a task force modeled after Five-O. She soon develops a relationship with Chin.
In addition to Dexter, Benz played Amanda Rosewater on three seasons of the Sci-Fi network's Defiance.