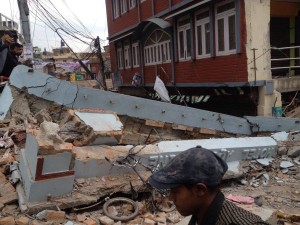 By Minnie Roh
Asian American Life
The devastating earthquake that struck Nepal in April killed close to 9,000 people. Hit particularly hard was the region surrounding Kathmandu Valley, – home to an indigenous people called the Newar.
Even before the earthquake leveled the area, the Newars were facing extinction, their distinct culture and language in jeopardy of disappearing within a few generations. It's something the immigrant Newar population here in the United States is trying to reverse.
"It's a very important topic," says Sam Shakya, who produced Reviving Nepal Bhasa, a 30-minute documentary about the Newars. "Embedded is your identity. Where you are from. You can't lose a language."
Shakya is a Newar who immigrated to Oregon with his family when he was seven years old. His documentary, co-produced with Bimina Ranjit, explores the historical contributions of the Newars to the Kathmandu Valley and how the dominant Nepali population is squeezing their culture out. Nepali is the country's official language and is taught in schools and favored in employment opportunities.
By the end of the 21st century, dominant languages will replace 90 percent of the world languages. 473 languages are endangered, according to UNESCO. Linguists claim that a language dies every 14 days.
In the United States, where over 200,000 Newars have settled, their communities are doing their part to keep the culture alive with holiday celebrations, cultural dance exhibitions and of course, teaching the language to the younger generation at home. Yet, it's an uphill battle, says Samir Maharjan, president of the New York Newar community.
"If they only learn Newar, not Nepali, when they go back to Nepal, no one will be using it. They will be backward," sighs Maharjan. "It's very sad and at the same time very difficult. Everyone has to work hard."
Watch Asian American Life this month to find out more about how the Newar community is rallying to preserve their culture and how the damage caused by the earthquake could actually serve as a turning point for these people.
September's all-new edition of CUNY TV's Asian American Life, hosted by Ernabel Demillo from Manhattan's Rubin Museum of Art, features reports on Nepalese communities in the U.S. and documentarian Sam Shakya's Reviving Nepal Bhasa, Asian American judges, Latin Asians, and facial acupuncture, all from series correspondents Paul Lin, Tinabeth Piña, Minnie Roh and Kyung Yoon.