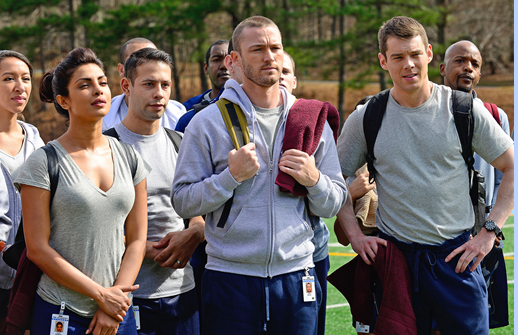 By Sid Sharma
@SidBSharma
The Cynical Desi
The Good: Diverse cast & fast paced story
The Bad: Slightly formulaic
The Ugly: Needs better special effects
Can Indians be cool and sexy on a mainstream American TV show?  If Quantico and Priyanka Chopra have anything to say on the matter, I believe the answer is a resounding yes.  The show is fast paced and the plot threads established in the pilot had me invested.  I hope, however, that future episodes will see the writers take more creative chances.
The show begins in the rubble and aftermath of an apparent terrorist attack at Grand Central Station.  Alex Parrish (Chopra) is in the thick of it, lying unconscious.  Obviously, something has gone horribly wrong.  Worse still, people suspect this was the work of someone within the FBI.
It is not explicit that Alex is an Indian American and while this might rub people in the wrong way, focusing on it would have robbed the pace of the show.  The only direct reference happens in the first few seconds as we see Alex wearing an Om bracelet at the site of the attack.  If you have no idea what that means, you are none the wiser and the shock of the scene remains intact.  This is quite an accomplishment if you think about it.
After seeing the trauma of the attack, we flashback six months.  The show quickly goes about establishing Alex: she likes working out, has a taste for indie music, things with her mother could be better, and she is very sexually liberated.  On the last point, she has sex with a seemingly random guy in an airport parking lot.  Perhaps most important detail here is not so much that she has sex but that she is able to deconstruct her fling with Sherlock Holmes-like analysis.
While Chopra's character is the anchor and most of the story centers around her, Alex is part of a larger team.  This team is introduced in quick succession in short vignettes.  The most intriguing character is Nimah Anwar (played by Yasmine Al Massri).  She's Middle Eastern and she seems to have an edge. I was most engaged when Nimah was on screen and hope they take advantage of the character in the future.
Strangely enough the FBI building in Quantico looks more like a local college than it does a serious center of crime fighting.  It's obvious they're trying to make the show a metaphor for higher education.  This comes complete with a no-nonsense head honcho, Miranda Shaw played by Aunjanue Ellis, gruffly telling the candidates that most of them won't make it.  I certainly hope that the reality TV show element of characters washing out will be kept to a minimum.  But it must appeal to younger audiences who grew up on a steady dose of the Hunger Games.
The strength of the first episode comes from the structure.  Characters have to figure out some hidden fact about another teammate within 24 hours or they will be let go.  Amid the martial arts, one-upmanship dialogue and gun training, this plot device lets you dive into the characters, motivations and backstories without feeling artificial or forced.  Generally speaking, these are good characters with lot to say and ABC is to be commended for exploring the lives of such diverse people.
I have two minor quibbles with the premier. They are the less than stellar visual effects and storytelling that sticks too close to what has gone before.  The first is forgivable and perhaps not even worth mentioning.  The odd way the paper flies from a charred building or the overly glossy skyline really do not detract from serious storytelling, but it feels off in a major network TV show.  The second issue is a little bit more concerning.  While it does a lot to engage the viewer, I can't shake the feeling that this is writing following a tried and true formula.  You can sit down with a script writing handbook and call out when certain things should happen and they come right on schedule on Quantico.  I understand that series premiers are often hostages to this phenomena, so I hope that future episodes will venture into more untested waters.
Taken together, this is a good show with a lot of promise.  The tension is sustained and significantly ratcheted up through the latter half.  Intrigue will keep you guessing and will engage you. In all, it is an exciting show that I will tune into again.
Quantico premiers Sunday, September 27th at 10e/9c on ABC.