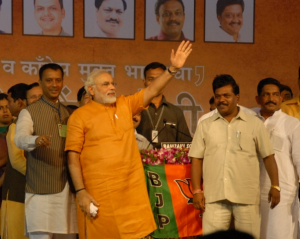 Anticipation is building among many in the Indian American community about tomorrow's big celebration in San Jose to greet India Prime Minister Narendra Modi.
More than 50,000 people applied to participate in a lottery to get one of the 18,000 tickets available for tomorrow's gathering at the SAP Center.
On the other side of the spectrum, the Alliance for Justice and Accountability has posted huge billboards speaking out against the visit.
"While India presents significant business opportunities, CEOs should tell Modi that they will oppose any steps that erode free expression or privacy rights," said Brad Adams, Asia director at Human Rights Watch.
Others have called on Modi to take a stand on LGBT rights. Section 377 of India's Penal Code outlaws sexual acts that are against the order of nature. The Asian American online activist group 18 Million Rising is calling for a repeal of that section and is urging Modi to support the repeal.
While some protests are expected, the overall atmosphere tomorrow is likely to be jovial.
"To some extent, they all want to share in the pride of having the Indian prime minister come here, and they like his style," said Karthika Sasikumar, a political science professor at San Jose State told ABC7 News. "He's a bit of a showman, and likes to play to the gallery, and he enjoys being in these large venues."
You can learn more about Modi's visit in the clip below from ABC7.
RELATED STORY:
Mr. Modi, India Should Invest Directly in Silicon Valley