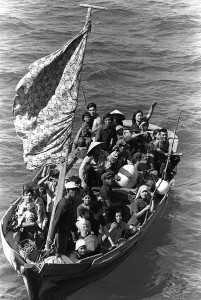 It's a story with the drama of a made for TV movie, only this is reality.
A five-month-old boy on a refugee boat as his family escaped Vietnam was kidnapped more than 30 years ago by fishermen who supposedly were trying to help the refugees.
The boy was raised by a Thai family unaware of his harrowing journey at sea and that the couple that raised him in Thailand was not his biological parents.
His birth name was Dam Ngo, but he was raised as Buff Sompon.
His real father who eventually settled in Glendale, California never forgot his son all these years and never gave up looking for him, despite the skepticism of even the mother, reports the Mercury News
Viet Van Ngo used every resource he had to try to find his son. In 1990, he returned to Thailand, but came back no closer to reuniting with Dam.
After the fourth trip, his wife asked him to stop, but Viet refused to give up the search.
Ngo got the attention of a TV show in Thailand dedicated to finding missing people. He was also helped by Thai officials and another man who found his son after 34 years.
Then Ngo saw a video of a futile search by another Vietnamese American family for their son. That family followed a lead to a Thai family with a Vietnamese son. It was not the right boy, but Ngo saw a video of that search and thought the boy might be his son.
The rest of the story is full of joy. You can read about what happened next in the Mercury News.