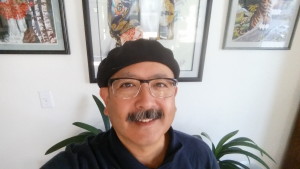 It's rare to see Gil Asakawa without his trademark flat cap and smile.
The author of Being Japanese American is a journalism instructor, marketing consultant for AARP's outreach to Asian Americans, and former editor at DenverPost.com.
For almost 18 years, he's blogged about everything from Asian American pop culture to politics on the website he founded, Nikkei View.
Stone Bridge Press recently published the second edition of Being Japanese American–A JA Sourcebook for Nikkei, Hapa and their Friends.
It's a book originally published in 2004 and updated by Asakawa over the last year.
"In 2004 when Being Japanese American was first published, AAPI faces were rare in American pop culture," said Asakawa.  "Japanese Americans, ,like other Asian Americans and Pacific Islanders, were practically invisible. But in the decade since, social media exploded and AAPIs have been prominent in all social media platforms."
He points to You Tube stars such as Ryan Higa, the many Asian faces now on mainstream TV shows and movies, and the early adoption of social media by Asian Americans as keys.
Friends say Asakawa is uniquely qualified to chronicle the Japanese American experience.
"Gil also has a unique perspective of being born in Tokyo (US Army base), and moving to the United States at the age of 8," said Ron Mori, a colleague at AARP. "He really, crosses two cultures and has the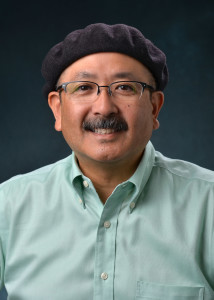 curiosity of a child as he approaches the sometimes unique cultural norms that Japanese Americans have adopted. I laugh, because the book is a trip down memory lane for me."
Mori adds that Asakawa is a cat lover, rock critic and art student. He grew up in  Sterling Park, Virginia outside of Washington, D.C.
"I celebrate a dual identity that all Asian Americans get to celebrate," said Asakawa. "I'm both American and have roots in Japan. Mostly the Japanese side manifests in cultural values and traditions. I work hard, respect elders and take off my shoes in the house. The American side is loud and brash and cusses a lot."
Harry Budisidharta, president of Mile High Japanese American Citizens League lets on that Asakawa knows a lot of cuss words in Japanese and is happy to teach them to people.
"His greatest contribution is his willingness to share his knowledge with the younger generation," said Budisidharta.  "Gil's blog attracts a lot of young readers and he uses it as an opportunity to teach them about the history of the Japanese American community. Gil is one of the rare people that can bridge the generation gap between the older generation and the younger generation."
It is the third generation Sansei, Asakawa believes, who pushed their Japanese American culture into the background.  He says some were forced by their parents and grandparents to become more White and mainstream due to the shame of the wartime incarceration camps.  They were forbidden to speak Japanese after the war.
"Their families wore shoes in the house and rarely had Japanese food.  Fourth and Fifth generation Japanese Americans, yonsei and gosei, seem to actually already be more open to their roots. Many yonsei and gosei I've met are involved in Japanese American organizations, or are active in their Japanese churches or have joined groups like Denver Taiko."
It is the younger Japanese Americans who he believes will keep Japanese American culture alive despite the high interracial marriage rate which he attributes to the trauma caused by incarceration camps.
"Also mixed-race Japanese Americans seem passionate about their Japanese identity. Japan and Japanese culture are still in the forefront of American pop culture thanks to cuisine (sushi, and now, increasingly ramen) and anime, so I think there will continue to be interest in Japan. What's important for me is to make sure everyone — non-Japanese as well as younger Japanese Americans — know something about our history, not just about what's popular today. The history gives us the perspective to build a strong future for the community. That's what I hope the book provides."
Being Japanese American is available on Amazon.