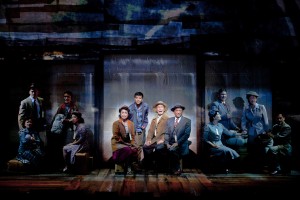 The previews of Allegiance on Broadway this week and its upcoming New York debut on November 8 has reignited the conversation about the role of the Japanese American Citizens League and its leader Mike Masaoka in encouraging Japanese Americans to cooperate with the imprisonment orders.
In a statement, the JACL rightfully defended itself.
The JACL is concerned that by using actual names, audience members may forget that they are watching a historical fiction.

The JACL hopes that those who see Allegiance will see this as the start of a conversation, and an opportunity to be better educated on this horrific event, consider the implications of how this struggle has affected the Japanese American community, and recognize how it may relate to issues within their own community. These considerations are the reason the JACL has been a staunch supporter of all those affected by discrimination, such as our positions on LGBTQ rights or our support of Arab American, Muslim American, and Sikh American communities in the wake of September 11th. We invite anyone interested in learning more to access the resources available on our website and work with us to ensure such a tragic event is never repeated.
While I do not personally agree with what JACL did, it is difficult for me to criticize their actions given that I did not live through the racist hysteria of the time. Their statement strikes the right tone in that while not endorsing the play by George Takei, it does not discourage people from seeing it either.
Takei's play brings up some legitimate issues that warrant discussion. It's a remarkable achievement that Takei has been able to bring his play to Broadway after debuting to critical and audience acclaim in San Diego in 2012. Allegiance should be celebrated by the entire Broadway community and the Asian American community, including the JACL.
It's time to get beyond the disagreements over those who refused to pledge their allegiance to the United States while their constitutional rights were being violated. These people should be honored as much as those who fought in the 442nd Regiment or 1ooth Infantry. Let's unite behind the victory of winning redress and the continuing education of the world that the incarceration was plain and simple, wrong, and a violation of the constitution this country holds so dear.