Fred Basconcillo looked on proudly as the city of San Francisco unveiled a permanent plaque honoring a childhood friend, native San Franciscan and two-time gold medal Olympian Victoria Manalo Draves.
The Filipino American diver became the first Asian American woman to win an Olympic gold medal at the 1948 Summer Olympics in London. She was also the first woman ever to be awarded gold medals in both the ten-meter platform and the three-meter springboard and the first American woman to win two gold medals in diving.
The plaque unveiling Saturday was the highlight of Basconcillo's crusade to win formal recognition for his childhood friend. He recalls how he approached then Mayor Gavin Newsom in 2006 to name a park in the South of Market after Draves.
"At first it was difficult," he said about his campaign in 2006. "I got a lot of 'well, what did she do. Did she meet the requirements?'In my opinion they made me jump through hoops."
The plaque is situated at the main gated entrance to the park that is named after the Olympian.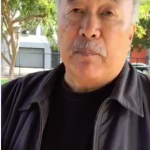 Basconcillo grew up with Manalo Draves in the South of Market area of San Francisco. It was one of just three neighborhoods in the city where Filipinos could live at the time. The others were Kearny Street and the Western Addition.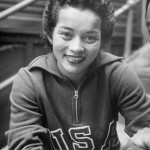 She was born to a Filipino father, Teofilo Manalo, and an English mother, Gertrude Taylor. Such interracial marriages were illegal at the time and Manalo Draves grew up feeling the sting of racism.
"When they tried to get her to be sponsored by the Fairmont Swim club, they said no," said Basconcillo about his friend's road to Olympic gold. "They wouldn't allow her to be because of her name Vickie Manalo. They negotiated and they finally agreed to let her be sponsored by the Fairmont Swim Club if she would agree to use her mother's maiden name. During her competing years in the Amateur Athletic Union, she was known as Vickie Taylor, her mother's maiden name. She didn't use her father's name until she got into the Olympics in 1948 in London, when they were going to announce when they wanted to introduce her as Mrs Draves because at that time she had already married Lyle Draves, her coach. They were going to introduce her at Mrs Draves and she said no. My name is Victoria Manalo Draves. That took guts."
Manolo Drave's story has caught the attention of many people who were previously not familiar with her. One of those is actress Georgina Tolentino, a Filipino American who also grew up in San Francisco but had never heard of the diver until she died of cancer in 2010.
Someone handed Tolentino an obituary from the New York Times. People remarked about how similar the two looked, but more than the physical similarities, Tolentino was inspired by the olympian's story and knew then she wanted to do a biopic about her.
"I think she represents the progress the country has made at the time and her gracing the cover of Time Magazine and being the face of the American women to win gold medals
I think definitely changed the perspective," said Tolentino who pointed out that interracial marriage became legal three months after Manalo Draves won gold.
"Her mom would walk separate from her father because I believe her English aunt was killed due to her interracial marriage. Her English aunt married someone who was Asian and was pushed down an elevator shaft and I think that changed the dynamic of her childhood and from then on she was taught to look down and to avoid the glares of other people."
Tolentino who's film is being financed through private investors expects to release her film in 2017.
She was on hand for the plaque unveiling and served as mistress of ceremony.
For Basconcillo, seeing the formal recognition of Manalo Draves is a source of pride. He still remembers in his teens when his family came to an open house in San Francisco's Bay View neighborhood and the realtor stopped them at the door saying 'no. We don't sell to Chinaman.'
"I feel a feeling of final recognition, finally being recognized," he said. "We're not recognized as being equal by the White community, but at least gaining recognition. There's a long long long way to go for minorities in my opinion in order to be equal."