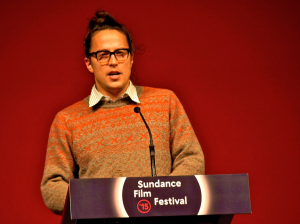 The Emmy-award winning Cary Joji Fukunaga has premiered his latest film, Beast of No Nation on Netflix.
The story stars Abraham Attah as a boy soldier in West Africa who is recruited as a guerrilla fighter as civil war engulfs his country. It is based on the 2005 novel by Uzodinma Iweala.
The 35-year-old Yonsei won the Emmy for Best Directing for the first eight episodes of HBO's True Detective last year. He became on overnight sensation on social media after his Emmy win for his good looks.
He told AOL he first conceived the idea for Beast of No Nation while studying film in college.
"When I was applying to film school in 2001, you're supposed to include a treatment for a film you'd do eventually and mine was about child soldiers, said Fukunaga. "I did my first research trip to Sierra Leong in 2003, and then read his book in 2005.
"I don't think it ever becomes gratuitous or torture the violence. It's just enough to impart to some degree how atrocious war is, especially how terrible it is for the children swept up in it."
According to Examiner.com, Netflix plans to run a full promotional campaign during awards season.
Who knows, we may be seeing Fukunaga hoisting a trophy on the Oscar stage and once again fans will get to swoon over this red hot director.
Fukunaga is reportedly producing the film Black Lung, a supernatural thriller starring Amanda Seyfried and Theo James. He's also working on a TV series The Alienist for TNT, based on the best selling novel by Caleb Carr.
(An earlier version of this story incorrectly named the child actor.)