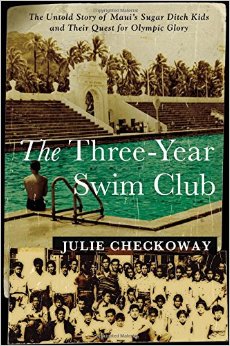 "Wax on, Wax off."
Fans of the Karate Kid starring Pat Morita will remember that classic scene from the popular movie franchise.
It was quite an unorthodox way to teach karate, but at least in the movie, it worked.
In real life, there's a similar but much less known story in the Japanese American community.
The Boston Globe says it took place in the Hawaii cane fields. It happened right around World War II, when anti-Japanese sentiment was high, even if you were born in the United States.
The story is told in the book by Julie Checkoway, The Three-Year Swim Club: The Untold Story of Maui's Sugar Ditch Kids and Their Quest for Olympic Glory.
Coach Soichi Sakamoto's goal was to get his ragtag band of swimmers into the 1940 Olympics in three years. But with World War II and the incarceration of Japanese Americans, that dream would be delayed. Sometimes the accomplishment is not in getting to your goals, but striving for them.
"They were on the front sports page of every major newspaper in the world," said Checkoway.
Sakamoto tailored his coaching techniques to specific body types. The techniques, although novel back then, are common in today's modern day swimming.
"In decades past, the technique might have been driven by a 'one size fits all' philosophy," said Abe Rogers, who now coaches swimming at Cambridge Masters Swim Club.. "Today, you want to find the best style that will fit the strengths and limitations of each individual. Every college athletic department has trainers to help coaches integrate sports science into the training regimen. I can only guess that resistance training was probably not that popular decades ago."
You can learn more about Sakamoto's story and how Checkoway managed to document it in the Boston Globe.