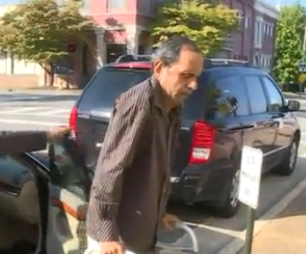 Jury selection is expected to begin today in the retrial of the police officer in Madison, Alabama accused of violating the civil rights of a grandfather visiting from India, reports Al.com.
The first trial of Eric Parker on a single charge ended in a mistrial when the jury deadlocked 10 -2 in favor of acquittal.
The video taken from a police camera clearly shows Parker shoving Sureshbhai Patel to the ground, his head hitting the concrete and causing partial paralysis. The jury must answer the difficult question–did Parker intend to use unreasonable force.
In the first trial Parker claimed "I lost balance and we fell."
Prosecutors for the justice department contends Parker had to know that holding Patel's hands behind his back while pushing him face first into the ground would cause injury.
Patel, 57, speaks very little English. Parker stopped him after receiving a report of a suspicious Black man in the neighborhood. Patel had gone for a walk alone during a visit with his grandson.
The Justice Department plans to call an expert witness who will testify that Parker's use of force on Patel was "objectively unreasonable" given Patel's size, the presence of other officers and other options available. The defense has moved to block that testimony.