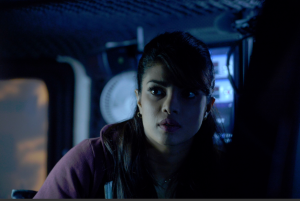 Still basking in the glow of the rating hit Quantico on ABC, Priyanka Chopra is reportedly considering an offer from the same network to host her own celebrity talk show.
NDTV quotes a source who says the Bollywood megastar likes the idea and will do her best to work out her busy schedule to make it happen.
"Priyanka has allotted nearly six months to Quantico. She will return to India in December to promote her next Hindi film, Bajirao Mastani and shoot Jai Gangaajal. But, yes, she has liked the talk show concept and will try her best to work out her dates," the source said.
Given that talk shows are year round, its hard to imagine where Chopra would squeeze in the time. International stardom, especially in the U.S., has long been her goal.
It's conceivable she could give up her Bollywood film career to work full time in Hollywood.
It all depends on how badly she wants it.