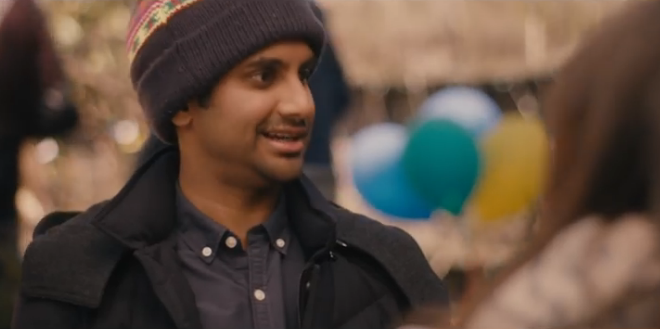 By Sid Sharma
The Cynical Desi
@SidSharma

A confession: Aziz Ansari reminds me way too much of myself. That's why I get this titanic sense of unease and feel an urge to change the channel whenever he comes on. So I never watched Parks and Recreation or his stand up specials. When people would talk about how funny he is, I'd just smile and nod while I hoped we move on.
I bit the bullet this Friday and watched his new show on Netflix, Master of None. Long story short – this show is good. Very good. It feels like every ounce of lame studio nonsense that passes for comedy was exorcised and we are left with an incredibly honest and funny portrayal about being a darker skinned guy trying to make it in his thirties. It's tonally similar to Louie on FX but the risks the writing team of Aziz Ansari and Alan Yang take make this a show worth binge watching.
Much of the humor comes from letting the stunning awkwardness of life play out. The show begins with Dev (Ansari) dealing with a broken condom followed by a run to the pharmacist for a morning after pill. Fundamentally, however, the premiere deals with the idea of growing up. After realizing that he could have had a kid last night, Dev falls in love with this romantic notion of being a father and offers to babysit his friend's children for a day. The conclusions Dev reaches about fatherhood at the end are in that precious border between happy and sad that makes life worth living.
While the first episode was good, it really comes together in the second one. I won't spoil too much for you but I think this is the first time I heard Tamil (a south Indian language) being spoken on an American show. The episode is a beautiful testament to Asian Immigrants and will stick with you for a long time. Ansari actually cast his real life parents in the show and there's just something incredibly beautiful about the choice. I actually sent a note to my own mother to check it out. (I'm not sure know how she'll react to the other episodes, however.)
In this way, Master of None has a way of hitting that sweet spot between sentimentality and nihilism with stunning grace. We see racism and sexuality explored in ways that very few TV shows have been able to do. And did I mention that this is done by Asian Americans?
This is the kind of good quality entertainment audiences deserve. I think Ansari and Yang have created a show that is funny, engaging and honest without selling out. Bravo to them and bravo to Netflix for supporting such artists.
Now if you excuse me, I have to finish binging on the show.