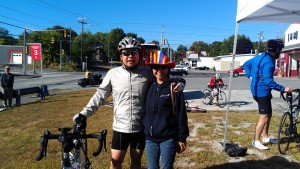 By Ernabel Demillo
@ernabeld
Clara Yoon recalls the day her son, who was still in high school, announced that he was transgender.
"My husband and I, just like many other parents, we were shock, in denial and we were afraid," she remembered. "And it's because one, we didn't know what transgender means and based on our limited experience or understanding, we knew that our son's life was going to be hard."
That day would be the beginning of a new journey for her son and for Yoon. While its difficult for many Asian children to come out to their families, many parents in turn continue to stay "in the closet."
A 2010 Boston University study found unique challenges to being gay in the Asian community. Coming out can often lead to rejection from their families and stigmatization by the larger Asian community. Many Asian cultures are socially conservative and in some countries like India homosexuality is illegal.
As a result, parents can also find themselves isolated and alone. And that's what happened to Yoon. But she sought support from organizations like Parents, Families, Friends, and Allies United with LGBTQ People (PFLAG) New York City and found that there were not many Asian parents in the room.
Knowing that she wasn't the only parent in the community going through this, Yoon started the Asian support group at PFLAG – creating a much-needed program tailored to meet the language and cultural needs of the Asian community.
Yoon was no longer afraid.
"I had a fear, I didn't know what the reaction would be. But I had to take the step and I had to make the decision to step out of my comfort zone, and I'm so happy being where I am," she said. "I'm so happy that I can be inspiring figure for other community members and other parents."
Yoon also teamed up with the Asian Pride Project, a non-profit that recently produced a series of public service announcements in different languages: Korean, Mandarin, Cantonese, Hindi, Tagalog, Japanese and more.
Aries Liao is one of the co-founders of the Asian Pride Project.
"Having a family member being able to publicly express their willingness to understand, willingness to connect, willingness to take a stand for the person that they love and care about is a very powerful message to their community," she said.
Liao's mom, who is Taiwanese, is one of those still struggling to accept her daughter's life. Liao came out several years ago, but her mom still hasn't told most of her family and friends. Liao's goal is to help her mom and others like her find her voice.
"[I want] to give people like my mother the language, the support, the power to be able to talk about herself without feeling shame, without feeling the need to isolate herself — the fact that she's not out, that she's not able to talk about me whenever her family and friends say, 'well is your daughter married, what's going with her' — and she can't share, and it's something that makes me feel very sad," Liao said.
For more on Clara Yoon and the Asian Pride Project watch this month's Asian American Life:
November's all new edition of Asian American Life also features:
ARTIST ZHONG HONGTU – At Queens Museum, New York-based Chinese artist Zhong Hongtu debuts a pop cultural series on life and politics in China. Nearly 90 pieces of contemporary art objects are exhibited, including the artist's famous "Mao" series depicting the Cultural Revolution, to Zhang's interpretation of old European masters like Van Gogh and Monet.
DOCUMENTARY FILMMAKER DAI SIL KIM-GIBSON-For decades, award-winning Korean American documentarian Dai Sil Kim-Gibson has been championing human and civil rights issues and activists. She's not your typical filmmaker – at 77, she's had a whole other life as an author and academic before devoting her life to social justice films. Correspondent Minnie Roh looks at Kim- Gibson's career and award-winning films like People Are the Sky, Silence Broken: Korean Comfort Women, the dramatic short Olivia's Story, and America Becoming .
AMERASIAN CHILDREN – This year marks the 40th anniversary of the fall of Saigon, ending the Vietnam War. Many of the American soldiers who served in Vietnam left behind children they fathered. Some were abandoned in Vietnam, while others were adopted in the United States. Correspondent Mike Gilliam provides an exclusive report on what happened to these forgotten children, interviewing Kien Nguyen, author of The Unwanted, and Trista Goldberg, founder of Operation Reunite, a non-profit organization that provides DNA tests to reconnect birth parents to their Amerasian children.