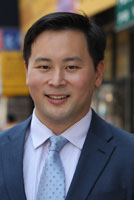 New York Assemblyman Ron Kim was among those who joined Governor Andrew Cuomo in applauding the signing of legislation cracking down on labor abuses in the nail salon industry just a few months ago.
What a difference a couple of months and a few big campaign contributions from the nail salon industry make.
The New York Times reports that Kim has done an about face. The state legislator who helped craft the bill is now speaking out against it, zeroing in on protections from wage fraud for the mostly immigrant workers.
The nail salon industry, which had been largely unorganized, has now banded together to fight the law, complaining it unfairly focuses just on their industry rather than all service sectors.
The reforms were quickly drafted after a two part series in the New York Times on wage abuses in the industry.
So what changed Kim's mind? Kim said he was unaware the nail salon industry was being singled out rather than the entire beauty industry. That's an assertion the Governor's office finds puzzling as it says that was made clear from the beginning.
What also changed was Kim has since received about $60,000 from the nail salon industry. Kim denies that has been a factor and has returned $5,000 from the Korean Nail Association and $2,000 from the Chinese Nail Association. However, he has chosen to keep contributions from individual nail salon owners.
The industry is particularly upset at provisions that requires businesses to purchase a wage bond so that when workers successfully file complaints of wage abuse, they can be paid appropriately.
You can read about help Kim is now giving to the nail salon industry in the New York Times.