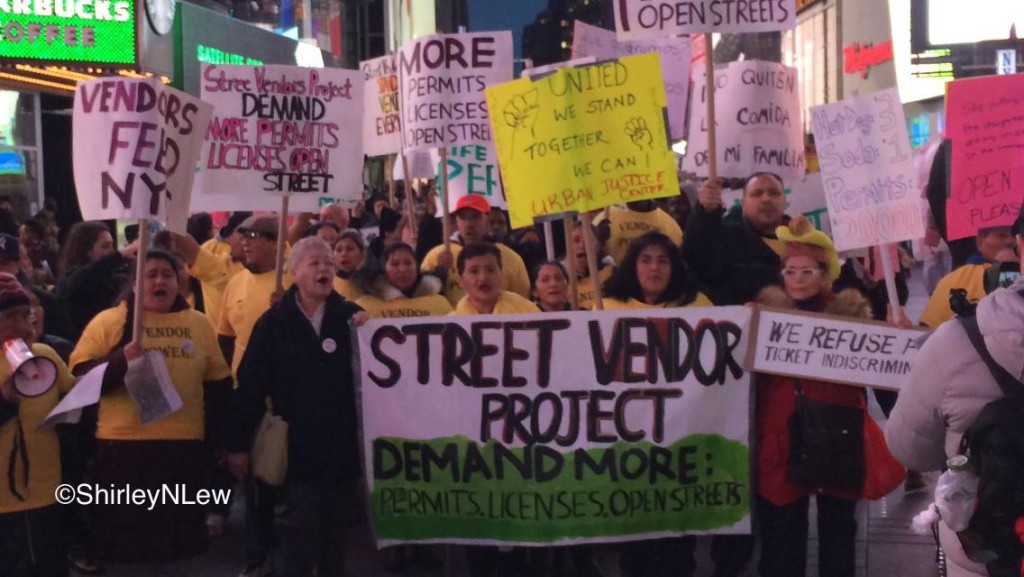 By Shirley N Lew
AsAmNews New York  Correspondent
Street Vendors in New York City are demanding more permits be sold so many more may earn an honest living.
They took to the streets in Times Square Wednesday shouting, "No more tickets!" They're angry that  less than 4000 permits are sold each year.  Many have been fined after resorting to selling goods or services illegally because of the lack of permits. 



The rally was part of #LiftTheCaps campaign by the Street Vendor Project to persuade the city to sell more permits. With so few being sold and a long wait list,  some are paying up as much as $20,000 on the black market for a permit, ten times the $2,000 the city charges.
Through an interpreter, "Vivian," told me in Spanish that her mother waited over two decades for a permit, but resorted to selling illegally during that time. 
Also part of the rally were the Asian street vendors under the "Global Artists League." Two months ago, many were unfairly targeted for being too close to the curb or causing traffic on the sidewalks.
One Asian street vendor said he has received seven to eight tickets in just the last year for random charges even while he says he is obeying the law.
NYPD Lieutenant Goode prevented a scheduled theatrical performance by the street vendors on the Times Square "red staircase" claiming it is private property despite a valid permit stating that the group could be there. Matthew Shapiro, attorney for the Urban Justice Center, disagreed and challenged the lieutenant in a heated discussion. Shapiro said it was public space and that his group should be allowed.
I noticed an undercover officer that stood next to Lt. Goode, so I asked, "Who owns the red staircase?"
He replied, "Times Square Alliance."
Shaun Basinski, the director of The Street Vendor Project said he hasn't been too successful in getting a resolution with the city, but added, "We need to show not just the vendors are organized, but there are supporters. So I think in time, we're gonna keep on fighting every week and eventually we are gonna win."
The Street Vendor Project is part of the Urban Justice Center, a non-profit organization that provides legal representation and advocacy to various marginalized groups of New Yorkers. For additional information, contact their Community Organizer, Ms. Kai Zhang at 646-602-3074.