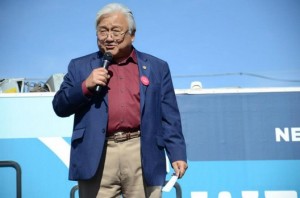 Rep Mike Honda (D-Santa Clara) declined to say whether he will be cleared in the ongoing ethics probe investigation of his successful 2014 reelection campaign, reports KPIX.
Honda is accused of using taxpayer resources to generate campaign contributions.
The Office of Congressional Ethics ruled there was evidence of wrongdoing and the matter has now been taken up by the House Ethics Committee.
"The other one (Office of Congressional Ethics) didn't have a judgment," said Honda. "They left information out there for the press to take and use and allow the public to judge. One should not be judged through the media."
Honda was appearing at a rally in support of a living wage for WalMart workers.
You can hear more comments from Honda about the matter and reaction from his challenger in the upcoming 2016 election, Ro Khanna, in the story below from KPIX.