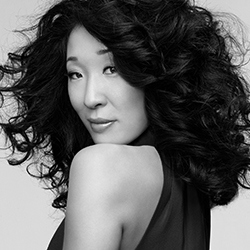 By Lia Chang
AsAmNews Arts and Entertainment Reporter
Stage, film and television actor Sandra Oh will lead the cast of South Coast Repertory's world premiere of Office Hour, a commissioned work from Julia Cho, April 10-May 1, 2016 in Costa Mesa, CA. Neel Keller will direct Office Hour, part of the Pacific Playwrights Festival,  on the Julianne Argyros Stage. 
Office Hour is set on a university campus, where one student sits in the back of the classroom, wearing dark glasses, a baseball cap pulled down low; he never speaks. His creative writing assignments are violent, twisted—and artless. He scares the other students.  He scares the teachers.  The kid is trouble.  Or, is he just mixed up, using his writing to vent, provoke, maybe even protect himself?  Gina is the only teacher willing to get close. But at what risk?
"Julia Cho has crafted a tense and riveting drama that draws on the threat of campus violence and challenges audiences to empathize with both student and teacher.  She encourages us to try to understand people unlike ourselves," said Artistic Director Marc Masterson. "With a play like Office Hour, we have the ability to find a deeper understanding and connection to someone who might be struggling with issues of violence or the threat of it. Julia's play lets us see it in a very real, personal way."
Office Hour is the third world premiere by Cho at SCR, after The Piano Teacher (2007) and The Language Archive (2009).
Cho's full-length plays—including Durango, The Winchester House, BFE, The Architecture of Loss and 99 Histories—have been produced by numerous companies including New York's Roundabout Theatre Company, The Public Theater, Vineyard Theatre, Playwrights Horizons and New York Theatre Workshop and regionally at Long Wharf Theatre, Oregon Shakespeare Festival and The Theatre @ Boston Court. Her play, Aubergine, will have its world premiere at Berkeley Repertory Theatre in 2016. She has received multiple honors including the Susan Smith Blackburn Award for The Language Archive, the National Theater Conference's Barrie Stavis Award, the Claire Tow Award for Emerging Artists and the L. Arnold Weissberger Award for Playwriting. She has been the recipient of a New York Foundation for The Arts grant and a Van Lier Fellowship from New York Theatre Workshop. She also was a Lila Acheson Wallace Playwriting Fellow at The Juilliard School and a resident at New Dramatists.
Oh's work on the stage includes the world premieres of Satellites and Stop Kiss by Diana Son (Public Theater) and Dog Eaters by Jessica Hagedorn (La Jolla Playhouse), in addition to The Vagina Monologues, off-Broadway. Her film and television credits include Grey's Anatomy, Sideways, Under the Tuscan Sun, Last Night, The Red Violin and Dancing at the Blue Iguana.
Additional cast and design team information will be announced at a later date.
Tickets range from $22-$71 and are available online at www.scr.org or through the Box Office, (714) 708-5555.
Lia Chang is an award-winning filmmaker, a Best Actress nominee, a photographer, and an award-winning multi-platform journalist. Lia has appeared in the films Wolf, New Jack City, A Kiss Before Dying, King of New York, Big Trouble in Little China, The Last Dragon, Taxman and Hide and Seek. She is profiled in Examiner.com, Broadwayworld.com, Jade Magazine and Playbill.com.