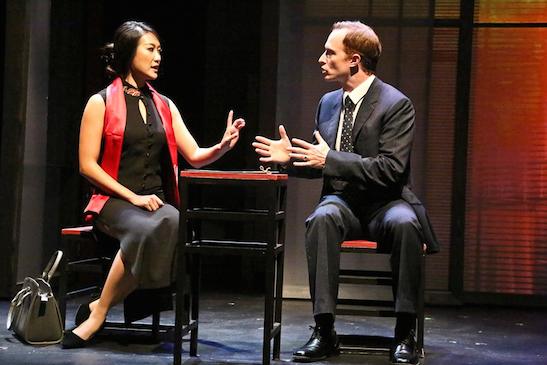 By Lia Chang
AsAmNews Arts and Entertainment Reporter
East West Players (EWP) in Los Angeles re-opens the hugely popular production Chinglish with a revised ending by Tony Award-winning playwright David Henry Hwang and directed by Jeff Liu. The critically-acclaimed production will have a limited run the first two weeks of December, starting Thursday, December 3rd through Sunday, December 13th at the David Henry Hwang Theater at the Union Center of the Arts at 120 Judge John Aiso Street, Los Angeles, CA 90012.
"When it comes to the pace of change, one year in China equals four years in the outside world. It's been four years since Chinglish played on Broadway, and the U.S.-China relationship has evolved at a breakneck pace, including puncturing the myth of Chinese economic vulnerability in 2015," says playwright David Henry Hwang. "I wanted to revise the ending of my play to reflect this new complexity, and am grateful that the success of East West Players' production has given me an opportunity to premiere these changes. Our two nations now seem joined at the economic hip, but we travel together into an uncertain future."
"Our production of Chinglish was very special in that we attracted both English speaking and Mandarin speaking audiences," says Tim Dang, Producing Artistic Director. "It is rare that any changes are made after a play has received a Broadway run and has been published. However, for these 10 performances, audiences will experience an exclusive world premiere ending."
Chinglish is a comedy about an American businessman who is desperately looking to score a lucrative contract for his family's firm. He travels to China only to learn how much he doesn't understand: his translators are unreliable, his consultant may be a fraud, and he is captivated by Xi, the beautiful, seemingly supportive government official who talks the talk – but what is she saying, anyway?
The original cast will return for this run, featuring Kara Wang (Chen Kaige's Caught in the Web and Daniel Hsia's Shanghai Calling) as Xi Yan, Matthew Jaeger as Daniel Cavanaugh, Jeff Locker as Peter Timms, Ben Wang as Cai Guolang, Ewan Chung as Bing and Judge Xu Geming, Leann Lei as Miss Qian and Prosecutor Li, Joy Yao as Zhao.
The design team includes: set design by Hana Sooyeon Kim, lighting design by Lonnie Rafael Alcaraz, costume design by Yuheng Dai, sound design by Dennis Yen, and props by Michael O'Hara. Stage manager is Sylvia Trinh.
Generous support for this production is provided by the S. Mark Taper Foundation Endowment for East West Players.
The performance schedule is as follows:
Thursday, December 3 at 8:00 PM
Friday, December 4 at 8:00 PM
Saturday, December 5 at 2:00 PM & 8:00 PM
Sunday, December 6 at 2:00 PM
Wednesday, December 9 at 8:00 PM
Thursday, December 10 at 8:00 PM
Friday, December 11 at 8:00 PM
Sunday, December 13 at 2:00 PM & 7:00 PM
*Note: There is no performance on Saturday December 12.
Regular tickets range from $28-$38. Student, Senior and Group discounts are available. Tickets may be purchased online or by calling 213.625.7000. Dates, prices and details are subject to change.
In 2014, Hwang was named director of the Columbia University's School of the Arts' master's program in playwriting. Hwang's upcoming musical productions include The Forgotten Arm, with music and lyrics by Aimee Mann and Paul Bryan, for the Public Theater; and Pretty Dead Girl, with music and lyrics by Anne-Marie Milazzo. Hwang is a writer-producer for the Golden Globe-winning TV series The Affair; is developing an original television series, Shanghai, for Lionsgate and the Bravo Network; and is currently writing the film adaptation of Chinglish, to be directed by Justin Lin. According to Opera News, Hwang is America's most-produced living opera librettist, and his collaboration with Bright Sheng on Dream of the Red Chamber for the San Francisco Opera will be produced at the War Memorial Opera House in Fall 2016.
East West Players is the nation's longest-running professional theater of color in the country and the largest producing organization of Asian American artistic work.
Lia Chang is an award-winning filmmaker, a Best Actress nominee, a photographer, and an award-winning multi-platform journalist. Lia has appeared in the films Wolf, New Jack City, A Kiss Before Dying, King of New York, Big Trouble in Little China, The Last Dragon, Taxman and Hide and Seek. She is profiled in Examiner.com, Broadwayworld.com, Jade Magazine and Playbill.com.