By Louis Chan
AsAmNews National Correspondent
Their lyrics are as provocative as their name, Slanty Eyed Mama.
Lyris Hung, a  Chinese American,  and Kate Rigg, a self described "mixed race multi cult post modern optimist" perform such spoken word songs as Me Love You Long Time and Wok This Way Bitches.
I'm a flower
Exotic blossom of the East
Blossoming power
Erotic pollen to the bee
I'll be your treasure
Open Me up and look inside
For the Pleasure
Opening lyrics to Me Love You Long Time
Slanty Eyed Mama
"Edgy, provocative, funny, intellectual" is how Rigg described her comedy to AsAmNews. "It is not dumb dumb comedy although I love fart jokes (I just haven't written a good one yet.) It is very political and subversive. There are lots of hidden meanings."
Their comedy and spoken word show Happy Lucky Golden Tofu Panda Dragon Good Time Fun Fun Show has three more performances this weekend at LaMama in New York City beginning Friday. The duo describe themselves in their publicity material as "two good Asian girls gone bad-assed" with a unique "brand of spoken word punk comedy rock."
"Our goal was to write a bunch of material that everyone — Asian and non Asian could relate to around the world while looking at this experience of Asians in other (Western) cultures, said Hung to AsAmNews. "This is an homage, and a sort of biting satirical and very modern way of approaching race, to recontextualize it and re-occupy it with a street attitude. We like the name. Our songs have provocative names too: Me Love You Long Time, What R-U? We are all about waking people up to see hidden bias and not so hidden bias."
Rigg elaborated.
"This show has comedy, music and characters. It is to give voice to ideas and Asian American tropes in the modern western world that we as Asian American artists control– meaning it is our perspective not some White person or Black person writing that experience. It is also all about the places we intersect the East meets West intersection of culture that are inherent in Asian American Identity– Chinatown, Hello Kitty, the stereotypes about us etc. Non Asians and Asians both receive those things in different ways. This is not an ancestor story, this is about now."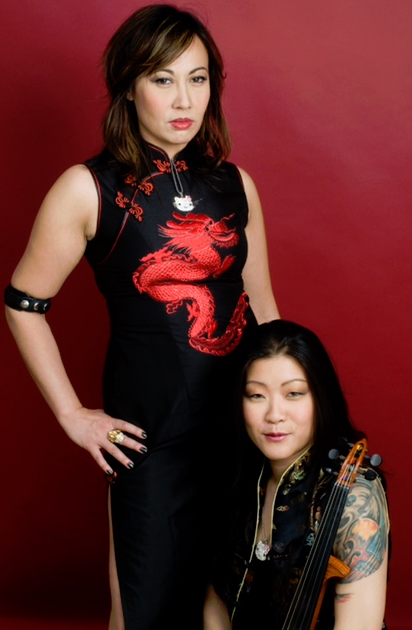 Rigg and Hung met while both attending the prestigious Julliard School in New York. Rigg has an honors degree in creative writing and speaks four languages. She grew up in three countries.  She appeared as the comedy correspondent on TV's Dr. Phil for 2 seasons. Hung is from Connecticut and graduated with a Masters in Violin. She's recorded with many artists and can be heard on Bryan Adams' MTV Unplugged, live with Bono and Quincy Jones at the 1999 NetAid concert, and live with the 2003 Trans-Siberian Orchestra. She's performed with Jay-Z , Indigo Girls and Beyoncé.  Hung and Rigg formed Slanty Eyed Mama in 2001, but Hung says it "feels like a hundred years. Maybe it has been 500 years." She describes her partner as "high energy."
Rigg calls her partner a "violin virtuoso who juiced up and went electric and is literally the most awesome musician ever."
Their brand of comedy and entertainment challenges the audience to look at the complex and sometimes uncomfortable issues of race.
'I don't do comedy to make people like me. I do it to make people talk about the things nobody talks about even if they vehemently disagree with me," said Rigg.  "Also I am funny — funny haha and funny strange– and so I can't worry about someone who doesn't get it — I can just say I did my best and focus on the ones who do get it."
With that as a mission, it's only natural that the pair has a name such as Slanty Eyed Mama, a name that might offend some or be misconstrued as racist. That rankles Rigg.
"Racist? Never," she said.  "It is actually slightly racist and reductive to ask that question because it ignores the body of our work which is about empowerment.
"Racial language is not necessarily racist. Words are just words, intent and context are everything. Are NWA racist or are they reoccupying the word that oppressed African Americans for years? The name of our act is provocative, a conversation starter, satirical and also if you want to talk semiotics it is a deconstruction of a racial slur that was accorded to Asian Americans."
The two would like to encourage to see more Asian Americans come out for their show. Their audience right now is overwhelmingly White and that's something that frustrates them.
"Asians are afraid to come out," said Hung.  "We are raised with a warning to assimilate and to do well and not disappoint our parents. Slanty Eyed Mama is a risk and an adventure and even though all our politics are very straightforward and about equality and inclusion and building self esteem, people assume we are edgier than we are because of our attitudes and name and etc."
"It's heart breaking for me to reach one Asian at a time and get this great feedback like "OH MY GOD No one has ever spoken to me about my experience before and I have been waiting forever to hear this kind of work", said Rigg.  "And I am like damn. I wish that experience could happen to hundreds of people because hundreds of Asian Americans feel lost in the gulf between their "home land" and "America."
Happy Lucky Golden Tofu Panda Dragon Good Time Fun Fun Show plays at The Club at LaMama, 742 E 4th Street. Tickets are $18 with the Friday and Saturday shows at 10 p.m. and Sundays at 6 p.m. The show closes this Sunday.