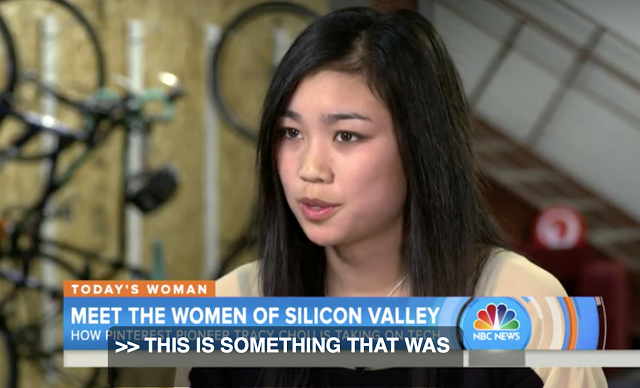 By Ed Diokno
NBC's Today Show launched a special series this week titled The Women of Silicon Valley. To start the series hosted by Natalie Morales, the Today Show interviewed two Asian American women whose actions were instrumental to bringing high-tech's gender gap issue to the forefront, Tracy Chou and Isis Anchalee.
Despite the few highly visible women executives past and present, such as presidential candidate Carly Fiorina, who at one time headed up Hewlett Packard, and Marissa Mayer, who is Yahoo's CEO, women have been highly underrepresented in the industry as a whole.
It wasn't until Chou asked for the hiring data from her own company, Pinterest, did the industry begin talking about the inequality within Silicon Valley. Since then, the industry giants such as Yahoo, Google, Facebook and others conduct their own surveys. Lo and behold, their data confirmed the gender gap and lack of diversity.
For video report on Chou, click here.
 Click here for Anchalee's video.
Back in August, Isis Anchalee Wenger suddenly became the face — quite literally — of female engineers working in Silicon Valley.
&snsp;
The 23-year-old started
#ILookLikeAnEngineer
on Twitter after an ad featuring her as a platform engineer at tech consulting firm OneLogin sparked a backlash, with people on social media expressing doubts about her profession.
The reaction to the disbelievers was overwhelming with engineers around the world sending photos of themselves to #ILookLikeAnEngineer. A crowd-funding drive raised money to place billboards and other paraphernalia around the San Francisco Bay Area with the now famous hashtag trying to break the stereotype of who can be an engineer.

(Ed Diokno writes a blog : Views From The Edge: news and analysis from an Asian American perspective.)