By Patrick Lorenzo
Pasko translates to Christmas in the Philippines. It's arguably the most revered holiday and known as the longest Christmas season in the world.
For families worldwide this celebration brings back countless memories, smells, tastes, sounds, and sights. Any person growing up in a Filipino household will surely have their own unique tales to tell. Even though I didn't grow up in the Philippines, I learned my own kind of Pasko from the values instilled from my parents. Though they grew up in the same town within reasonable walking distance from each other, their respective accounts of Pasko are distinct.
According to my mother, depending on your family traditions, your celebration of Pasko might start as early as the "ber" months, September 1, when an official countdown begins.  Christmas music is on the radio, and decorative lanterns are up December 16, the typical kick off of Simbang Gabi. This nine day series of early morning masses (3 to 5 a.m.) to celebrate the coming of Christmas concludes on the first Sunday of the New Year.
For my father, the oldest of nine children, he recalls Pasko as a two day fete. As a child he remembers making an annual trek to Laguna, his mother's hometown, on Christmas eve to participate in mass and to witness both the town festivities and procession that usually lasted three hours. He was fond of the seasonal spread, particularly the bibingka topped with a salted egg and melted butter (a charcoal cooked rice/egg based cake usually only served during the holidays though now available all year round) and puto bumbong (a sticky purple colored rice confection buttered and dusted with brown sugar and coconut). During Pasko, these are two sweet standards found in nearly every town and household with their own respective spin. These two items are often accompanied by salabat (ginger infused coffee) and tsokolate (Spanish style hot chocolate).
From as early as five years old he always remembered playing host to several families visiting and paying their respects on Christmas day. His tatay (father) always the generous provider and caretaker offered up both a roasted pig and a roasted goat to feed the numerous families, carolers, and other guests that stopped by their home. His nanay (mother), the gracious hostess and dedicated culinary artist, always cooked a family favorite dessert, ginataan (food cooked with warm coconut milk).
For my mother, the youngest of ten, Pasko always started on December 16 with the sequence of early morning masses. This meant waking up around three or four in the morning to attend the early mass. She recalled participating as young as five years old. One of her favorite memories was shopping for new clothes with her five older sisters. Her mama directed her eldest sister to take them to the mall to find a new sweater to wear for the Simbang Gabi masses because of the "colder" morning weather.
Growing up in a huge family made shopping a special treat, especially during Pasko. Though my mother and her siblings enjoyed these gifts, their tata (nickname for tatay) made sure they understood the meaning of community and giving back. Tata made sure he had gifts for not only his children and grandchildren, but for neighbors, carolers, and out of towners. The gifts came in the form of saved up containers of coins for kids or various holiday dishes for neighbors.
Speaking of food, when I asked my mother her favorite treat during Pasko she pointed to her mother's signature suman sa lihiya (sweet rice mixed with coconut milk, wrapped in banana leaves and coupled with coconut and raw sugar). Made specifically during the holidays (often requested from folks far and wide) and rarely assembled on other occasions due to its time intensive process, this delicacy embodied the spirit of family tradition and happiness.
One shared memory both my parents brought up were visits to their respective Godparents. A Christmas morning tradition where their visit yielded them an ang pao (the Filipino red envelope). My father remembers performing this annual trip with his nanay where they also greeted his Ninong (godfather) with a roasted pig. He continued this tradition until he enlisted in the Navy in 1976.
My mom recalls being accompanied with various siblings through the years because her Ninang (godmother) always had gifts for whoever joined her at the visit. Purses, dresses, bags, umbrellas, etc. Naturally, she received the largest gift. Today, my mother attributes her generosity from her Godmother's unselfish nature.
Though Pasko looked a little different for my siblings and I growing up, we did experience the similar tastes and joys of community. In high school, I remember playing host one year to several families and it not mattering when our home could barely fit a few families in the living area. Despite the lack of playing area and elbow room for eating, we made it work. I also recall one potluck themed year when the spread was several rotisserie chickens and trays upon trays of desserts. Though it was a little disorganized, it didn't matter because we were breaking bread together.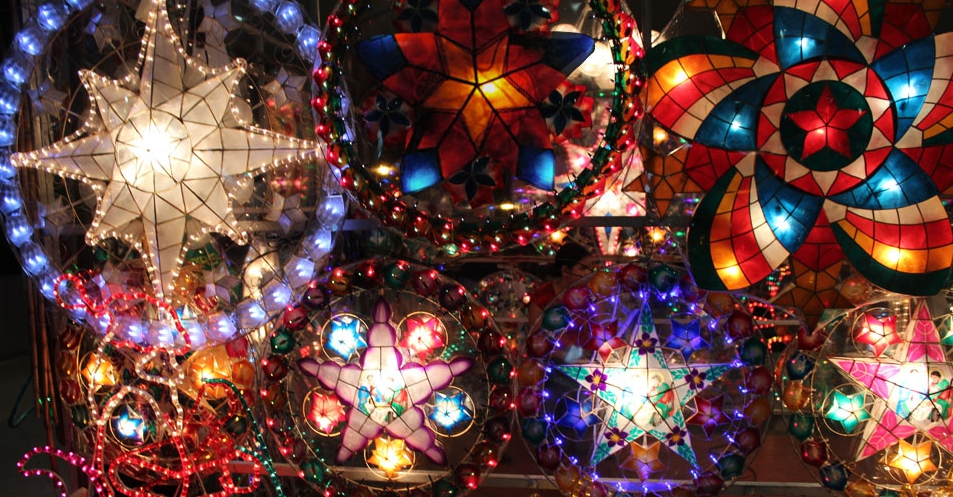 Today, as a husband and father of two young boys (6 and 1), my wife, who grew up in the Philippines, and I are just starting to create our own Pasko traditions. We are going to play host on Christmas eve. Since we cannot afford to give gifts to everyone in our extended family we are giving our time and effort. For my wife, this means sharing her exceptional culinary talents. There is no stronger, loving Filipino tradition than preparing a holiday feast.
She is designing a traditional Christmas dinner withh Filipino inspired twists. For example, transforming the typical honey baked ham into a tocino ham (think elevated Filipino Canadian bacon) and a reinvented rib roast adobo style (national marinade comprised of garlic, vinegar, soy sauce, and other seasonings). Dessert is to be determined, however, ube (purple yam and current "it" item having a moment among Filipino sweets) and leche flan (Filipino answer to creme brulee) will likely be married in cake form or combined together in a unique fashion.
While my wife and I also scheme about the logistics of hosting, ugly sweaters, sitting arrangements, and activities, it's not lost on us to teach and model the spirit of Pasko for our boys. Our six year old is enrolled in CCD (Catholic religious education) and shared with us that Christmas isn't about presents. Though we're still defining and finding our Catholic approach, our values are universal ones of respect, compassion, appreciation, and joy. Yes, we'll have a few wish gifts granted and a hopefully a new tradition of giving personal symbolic gifts to one another too.
Our hope is to instill in our young boys that Pasko is a deeply rooted Filipino tradition of giving and sharing. This spirit of Pasko is best captured in presence. Presence in family. Presence in friends. Presence in community. Presence in sharing traditional meals. Presence in laughter. Presence in taking pictures. Presence with one another even if it's in ugly sweaters.
Whatever your Pasko traditions and festivities entail, celebrate with joy and happiness. Put down the cell phone (except for taking pictures). Get social with your media, but don't get caught up in your hashtags. Play as many games as possible. Laugh at and with each other. Cook and eat together early and often. Ultimately, creating your own traditions to share for generations to come.
Share your Pasko stories with AsAmNews in the comments section below.
Maligayang Pasko.