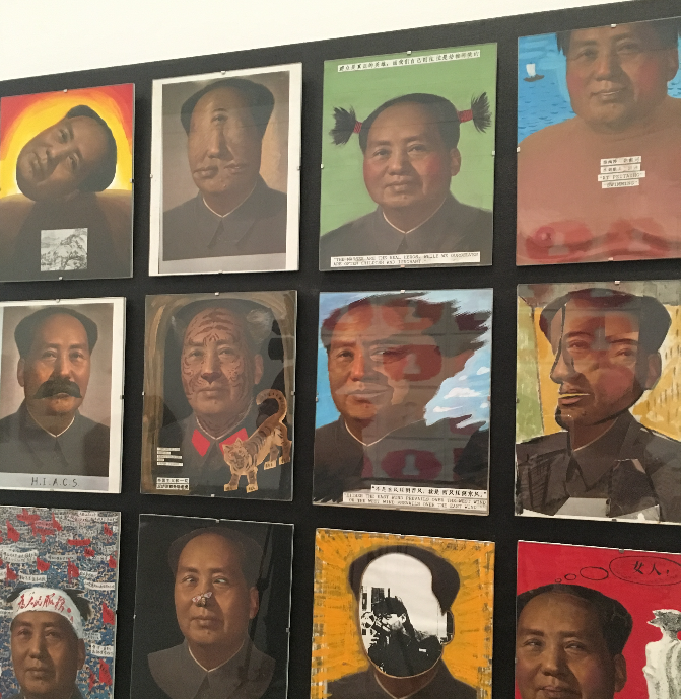 By Sara Porath
Producer, Asian American Life
Internationally renowned Chinese American artist Zhang Hongtu is having his first retrospective in the United States at the Queens Museum in New York City. Known for his powerful pop art series of Mao paintings, this exhibit of 90 paintings over a seven decade period gives us for a first time a wide lens on this brilliant, innovative artist who wants to bring people together through his art.
Zhang Hongtu was born in 1943 to an observant Muslim family in China, which at the time was undergoing dramatic change to communism and Maoism. His family became outsiders when his father was branded a rightist and an enemy of the people.
Initially, Zhang like other young people welcomed Mao's cultural revolution but quickly became disillusioned.
"I saw people die especially young people. That changed my idea about the Cultural Revolution. It's not about culture; it's all about Chairman Mao's power. "
Zhang sought artistic freedom by immigrating to New York City in 1982 with his wife and son. At first, he avoided painting anything having to do with China because of his traumatic experience. But the Tiananmen Square Massacre in 1989 propelled him to start creating a whole series of Mao artwork. This time he dared to combine images of Mao with styles of Western artists like Andy Warhol, Marcel Duchamp and Pablo Picasso, creating a cultural marriage.


Art has become therapy for Zhang as his series has gained global recognition. American fashion designer Vivienne Tam transformed his art into high fashion. His painting called The Last Banquet is particularly controversial because he takes Leonardo da Vinci's The Last Supper and replaces all of the religious images with images of Mao. "My idea who betrayed Mao, Mao himself!" This famous painting kicked up a storm in the Chinese and American press and even was banned from an exhibition in the US capital by Sen. Ted Kennedy who called it sacrilegious. But Zhang attracted more publicity because of the controversy.
As the exhibition shows, Zhang goes on to experimenting with cultural hybridity- combining west and east, high and low and past and present elements, all for the purpose of bringing people from different cultures into a dialogue. He also calls attention to global issues like pollution. His paintings can make you laugh, ponder and wonder.
Still having a boyish look with his grey hair, Zhang at age 72 took us around the exhibition with boundless energy, optimism and passion. He showed us the main attraction of the retrospective, which he created this year — a 98 foot long computer-generated rendition of China's impenetrable Great Wall. But this time he puts in arches for people to walk through.


"After I moved to Queens, I know my neighbors from everywhere around the world, I know that people speak all different languages. So I like people look at my work, and look at this piece. Think about the sharing, communication, the dialogue between different people from different culture and different background."
Watch artist Zhang Hongtu take us on a tour of his retrospective at the Queens Museum on this month's episode of CUNY TV's Asian American Life.
(We have learned from Zhang Hongtu, the Facebook version of the story cannot be viewed in China. )
At Queens Museum, New York based Chinese artist Zhang Hongtu debuts a pop cultural series on life and politics in China. Nearly 90 pieces of contemporary art objects are exhibited, including the artist's famous "Mao" series depicting the Cultural Revolution to Zhang's interpretation of the old European masters like Van Gogh and Monet.

Posted by Asian American Life on Monday, December 7, 2015