It was day filled with tears and memories for the families of Officer Wenjian Liu and Rafael Ramos.
The two officers were gunned down 1 year ago Sunday while sitting in their patrol cars.
Plaques were unveiled in honor of the two officers at the 84th Precinct station house in Brooklyn where they worked, reports NY1.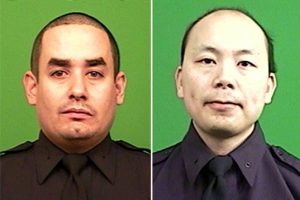 "I'd give anything to see him and hear his voice again," said Pei Xia Chen, Liu's wife, reading a statement written by her husband's father.  "For the past year, it has been extremely difficult for our family. Thanks to everyone who reached out to us."
The pain in her voice was clear.
So was the support from the men and women in blue and all those associated with them.
"Know that you are forever a part of our family and that we will always keep Rafael and Joe and our hearts," said NYPD Capt. Sergio Centa.
You can watch video from the ceremony on NY1.