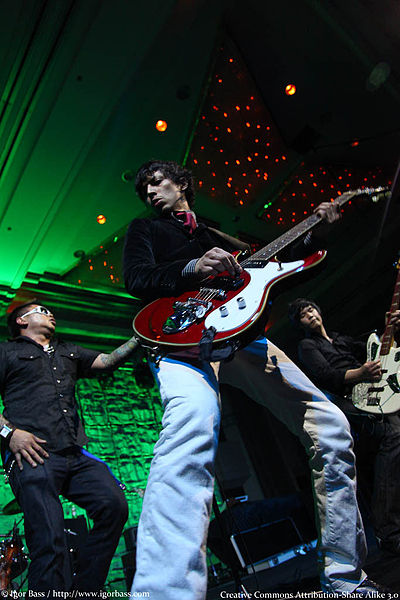 The Slants never say die attitude has paid off.
A federal appeals court has ruled the Asian American rockers can trademark their own name even though some might find their name offensive, reports Oregon Live.
"It's monumental for artists and for activists," said Simon Tam, the group's leader, who has lost several rounds in the Patent Trade Office and the courts.
Their long struggle over their name has won the hearts of their fans and many in the Asian American community.
It has also been opposed by the National Asian Pacific American Bar Association and the South Asian Bar Association of Washington, D.C., which both feared if the Patent Office was forced to grant the Slants request, it would have no way of stopping similar trademarks of slurs with more malicious intent.
Some analysts are already speculating the ruling is a big boost for the Washington Redskins and their naming controversy. In 2014, the Patent Trade Office ruled against federal protection of its trademark.
"This decision strikes down the PTO's ability to reject a trademark that potentially discriminates or disparages a group," says Anthony Lupo, the head of Arendt Fox's entertainment, fashion, and technology practice told the Washingtonian. "Consequently, the decision to reject the Redskins will be overturned."
In its ruling the appeals court wrote:
"Many of the (trademarks) rejected as disparaging convey hurtful speech that harms members of oft-stigmatized communities," the court wrote. "But the First Amendment protects even hurtful speech. The government cannot refuse to register disparaging marks because it disapproves of the expressive messages conveyed by the marks."
Tam agrees. He's said all along the band's name was an attempt to reclaim a racial slur and make it a positive.
"I didn't start a band to go to court. I started a band to tour. But at the end of the day, we've got to go by our principles."
The case is likely to go to the U.S. Supreme Court.