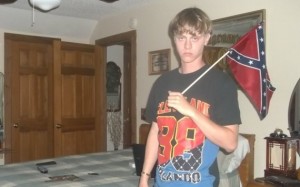 By Louis Chan
AsAmNews National Correspondent

(Note from Editor: AsAmNews continues its look at 2015 with updates and analysis on the top five most viewed stories of the year )
The man who has all but admitted to gunning down nine Black parishioners at Emanuel AME Church in Charleston, South Carolina in June threw Asian Americans under the bus when he called the community "great allies."
Roof's twisted views emerged in a racist manifesto reported in several main stream publications and blogs.
"I have great respect for the East Asian races," Roof's manifesto reads. "Even if we were to go extinct, they would carry something on. They are by nature very racist and could be great allies of the White race. I am not opposed at all to allies with the Northeast Asian races."
AsAmNews' response to the manifesto was the third most viewed story of the year.
"There is nothing complimentary about Dylann Roof's comments regarding Asian Americans, who he regarded as suitable and worthy "allies of the White race," in part, because Asian Americans are "very racist,"' said Jennifer Lee, sociology professor at the University of California, Irvine said to AsAmNews this week.  "First and foremost, Roof was mentally ill, and felt threatened by all non-White groups because they challenged the dominant position of Whites in the U.S. racial hierarchy.
"His view of Asian Americans most likely stemmed from the changes in U.S. immigration law in 1965 that privileged highly skilled and highly educated migrants from East Asia, which consequently changed the social and economic profile of Asian Americans. Prior to 1965, Asian Americans were segregated and perceived as unassimilable. Had U.S. immigration law not changed in 1965, Roof would have perceived Asian Americans very differently, and would have placed them closer to Blacks and Hispanics."
It's fair to point out that there wasn't a huge backlash against White supremacists after Roof's rampage. Compare that to the reaction against Muslims after the shootings in Pasadena.
Can you envision Donald Trump  ever proposing that we ban all Europeans from immigrating to the United States until we can do a better job screening out people from hate groups? It hasn't happened and it won't happen.
There is no logic in racism.  Those who are racist are inconsistent in their ideology.  This nonsensical way of thinking can be countered with greater education and compassion. Voices of understanding and love must drown out hate.
Roof reportedly would like to plead guilty to the murder charges in a bid to avoid the death penalty. He won't file the plea if prosecutors ask for the death penalty.  A state trial date is set for July 11. No trial has been scheduled yet on federal charges.
Additional Coverage
Fourth most viewed story of 2015: Mike Honda forced to devote resources to ethics probe
Fifth most viewed story of 2015: Crazy Ex-Girlfriend puts Filipino American family on national TV
Honorable Mention: Most viewed stories from 2015: Parents say school district turning blind eye to bullying of Asian Americans