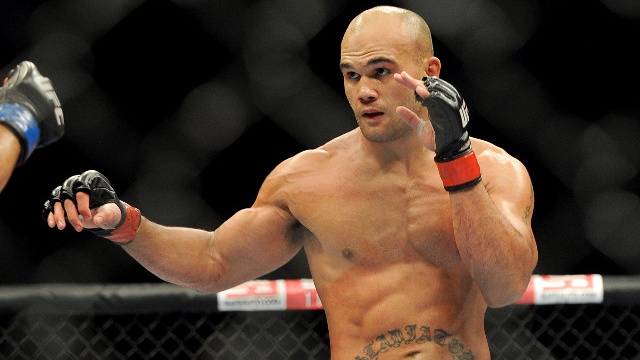 By Ed Diokno
UPDATE: Fil Am Robbie Lawler Retains MMA Crown in Split Decision
Is this the fight when Robbie Lawler gives up his welterweight crown? The 170 lb. Filipino American mixed martial artist will meet challenger Carlos Condit today in a pay-per-view match in Las Vegas.
The highly anticipated match up will headline the UFC 195 event (10 p.m. EST). Originally scheduled for November, the fight was postponed because of an injury Lawler suffered while training.
"I've been around a while," said the 33-year old Lawler, who started his MMA career at age 20. "But it's what I do and what I love to do. I always believed I would be a UFC champion. And I believe I will be successful in this defense as I was in my last."
When the San Diego-born Lawler defended his title six months ago against Rory McDonald, the match was described as one of the best MMA fights in history and easily the Fight of the Year for 2015.
Lawler and Condit are both accomplished fighters and known for their striking power. Expect them to be standing toe-to-toe throwing blows from every direction. Most experts say the fighters are evenly matched and the fight too close to call. They also expect that the fight will end in a knock-out.
If it gets into a grappling match, Lawler will have a slight edge for his wrestling skills but Condit may have an edge in submission moves.
When Lawler beat John Hendricks to win his title in December 2014, which was held in Las Vegas, he became the first Filipino American to win a UFC crown.
At 5 feet, 11 inches, he'll be a few inches shorter than Condit and his reach will be an inch shorter but that doesn't deter the champ.
Condit and Lawler have a healthy respect for each other and in pre-fight interviews avoided any trash talking about their opponent."I don't ever really rank guys, but obviously Carlos is way up there," he said of where Condit fits amongst the top strikers he's faced in his career. "Every striker is different and has their little tweaks. Carlos is a kickboxer and he's got a little different style than most, but he's high up there and I definitely have to be focused. He brings everything to the table when it comes to strikes, so I have to be sharp."
"He's probably the most dangerous guy that I've ever faced," Condit said of Lawler, heady praise from a man that has shared the Octagon with a Who's Who of the 170-pound ranks over the last decade. "He's super-skilled, but he's also got the power and he's got experience and he's a smart fighter. I'm going to have to be on my A-game."