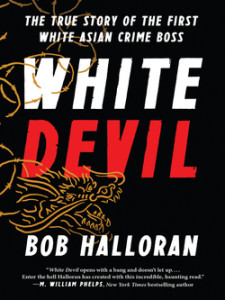 John Willis was a troubled 16-year-old White kid in Boston when he worked as a bouncer in a nightclub after convincing management he was really 18.
Willis helped an Asian man named Woping Joe out of a fight at the club and that incident would change Willis' life forever.
Woping Joe told Willis if he ever needed anything to call him. Willis did, and according to the Daily Mail, that phone call set Willis on the path to become the number two person in the Chinese Mafia.
It's all documented in a new book by Bob Halloran, White Devil-the True Story of the first White Asian Crime Boss.
The Ping On gang quickly took on Willis, nicknaming him the White Devil. Willis learned two dialects of Chinese as well as Vietnamese.
He started out helping the gang collect on its loans, and soon rose up the ranks and became chief body guard to one of the crime bosses, Bai Ming. Before long, he was Ming's right hand man.
Ming would eventually be on the top of the Chinese Mafia's food chain and Willis rose up with him, eventually becoming number two.
Willis would eventually get involved in the drug trade which would be his undoing, but he didn't fall until he got involved with a gorgeous Vietnamese American woman, Anh Nguyen.
Today Willis is in prison. You can read how he wooed Nguyen and his life came crashing down in the Daily Mail.
White Devil-the True Story of the first White Asian Crime comes out January 12.