By Shirley N Lew
AsAmNews New York Correspondent
Some New Yorkers feel there has been an escalated level of crime targeting Asians. Three weeks ago an attacker slashed a Chinese exchange student   in Queens. Another suspect stabbed playwright David Henry Hwang from behind in the neck in November and Asian women were getting hit in the face with a hard object just last year. In the latest incident, a man dubbed the Citi-bike riding thief is snatching things from Asian victims and riding off.
Jia Jia Liang, the 16-year-old exchange student attacked in Queens, received about 200 stitches to her face and throat. In an eerie turn of events, the attacker left a note by her home three weeks after the slashing and said she was actually the wrong target.
The girl who was the intended target received a threatening letter left on the windshield of her mother's car, which was also vandalized. In the letter, sources say that the attacker wrote, "You f—ed with the wrong person." The identity of the second girl has not released, nor has her ethnicity.
In a news conference last Thursday, Queens Assemblyman Ron Kim started a GoFundMe account to help pay Liang's medical costs and to continue her education. A day after Liang's attack, Kim wrote a letter expressing concern to Mayor De Blasio and the New York Police Department raising the issue of whether there was a pattern of Asians being targeted.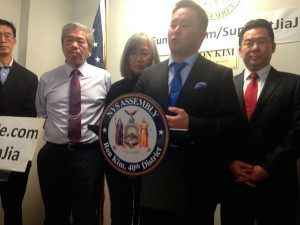 When Hwang recounted his attack for the NY Times last week, he also expressed that there has been a rise in crime on Asians.
In an interview with Karlin Chan, a long-time community advocate and co-founder of the Chinatown Action Network, he said, "Harassment and robberies against Asians has always occurred in the past. These past two years we have seen a disturbing upward trend on crimes against them. It has always been under reported and statistics do not reflect these as bias crimes. Chinese take-out restaurants and other Asian businesses have always been viewed as soft targets by criminals because of the business owner's language barrier."
Vic Huey of Chinatown had this to say about Hwang's attack.
"If it was Maya Angelou or Toni Morrison that got slashed, it would be front page news and Al Sharpton's peeps would be marching in the street and Spike Lee would be ranting on social media."
There are no confirmed suspects at this time for the Citi-bike robber, nor in Liang's or Hwang's case. The suspect that was smashing women's faces was found dead by apparent suicide last June.
Chan said he is advocating for the NYPD to start compiling data on crimes against Asians and to treat them as possible hate crimes.
What are your thoughts about the these latest attacks on Asians? How can the NYPD and Mayor de Blasio do more for Asians in New York City? Share your thoughts with us join on our web or Facebook page or tweet me @ShirleyCNJ.