By Ed Diokno
Victims of human trafficking could be the guy delivering your Chinese food, a woman  giving manicures, the men working in the kitchen of your favorite restaurant or the woman taking care of the children of someone you know. They have been gardeners, waiters, bakers and teachers.
President Barack Obama has proclaimed January as National Slavery and Human Trafficking Prevention Month. On Tuesday, top U.S. officials renewed pledges to combat human trafficking through interagency efforts and public-private partnerships.
"One hundred and fifty years ago, our Nation codified the fundamental truth that slavery is an affront to human dignity," reads the presidential proclamation. "Still, the bitter fact remains that millions of men, women, and children around the globe, including here at home, are subject to modern-day slavery: the cruel, inhumane practice of human trafficking. This month, we rededicate ourselves to assisting victims of human trafficking and to combating it in all its forms."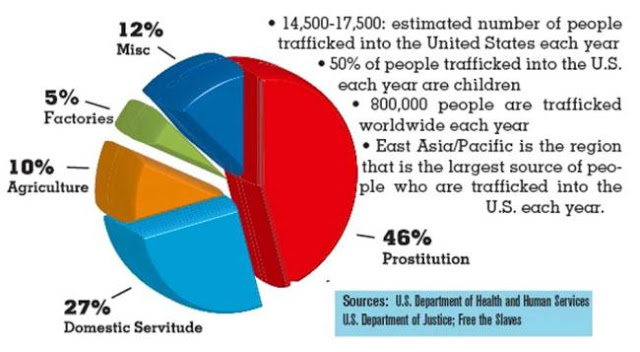 Although half of the international trade of human trafficking ends up in the U.S., most of the human trafficking victims are Americans. Young men and women preyed upon and then convinced or drugged into the sex trade.
In international trafficking, Asia is the largest source of victims, who generally are looking for a better life.
The Department of Justice developed a series of public service announcement called The Faces of Human Trafficking in various languages, targeting the Asian and Latino communities. They are meant to raise awareness of human trafficking, how anyone can be a victim, and that survivors of this crime have very diverse backgrounds and experiences.Calling human trafficking a "multi-billion-dollar criminal enterprise," Secretary of State John Kerry pointed out that fighting this problem is both a moral obligation and a national security issue."I believe this is a fight that we can win but, most importantly, this is a fight we have to win," Kerry said in a cabinet-level meeting at the White House. "You can't have 20 million people in modern times literally enslaved and waiting for the moment when a government, a responsible entity, might step up and help protect them as we should."
Kerry added that more than 20 million people are enslaved every year, but only 1 percent are identified.