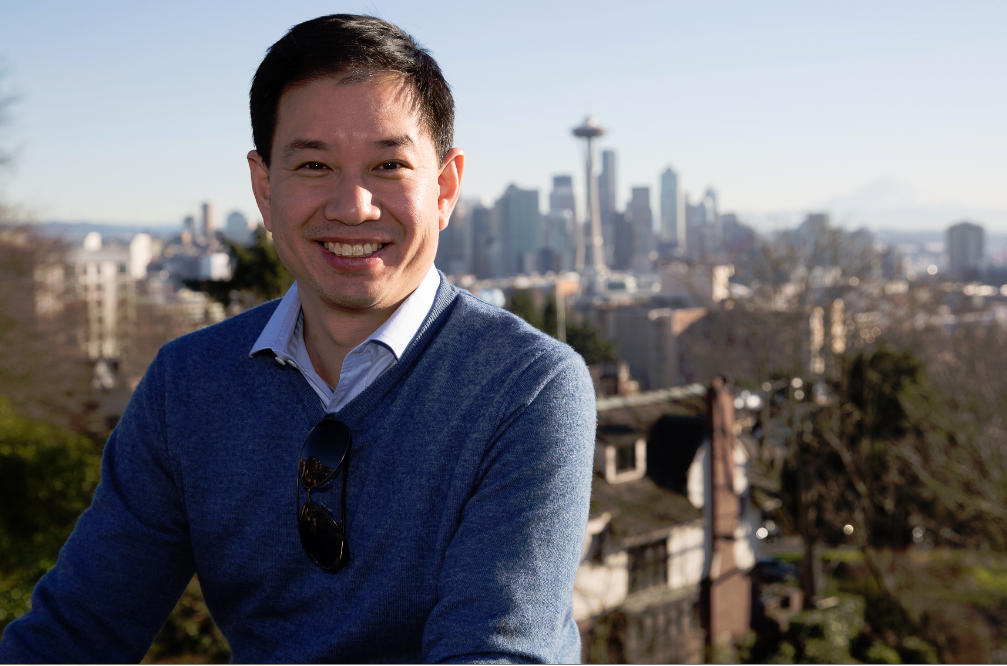 By Louis Chan
AsAmNews National Correspondent
Journalist and political newcomer Phillip Yin on Thursday declared his candidacy for Lt. Governor in the state of Washington.
Yin is running as a Republican in a state that is fairly evenly divided between Republicans and Democrats in state government.
Yin hopes to replace five-time Democratic incumbent Brad Owen who has yet to declare his candidacy for a sixth term.
Judging from the number of Democrats running to replace Owen, 4, his political opponents feel Owen is beatable.  While Owen has yet to officially declare, he has filed paperwork
So far there is only one other Republican who has declared his candidacy for Lt. Governor, Javier Figueroa, who is a Council member from the City of University Place which is west of Tacoma.
The primary is scheduled for August 2.
Yin is a former business news anchor for CCTV America. He has also worked for Bloomberg and the private equity investor, Unifund, according to his LinkedIn profile.
"I want a great economy with better jobs," said Yin to AsAmNews when asked what issues were most important to him. "With my international experience, I feel I can bring even more great jobs and fuel the economy."
Yin is not running away from the fact he is a political outsider.
"No one should have a lifetime in politics. I think it's good to have private sector experience. It's quite obvious from current events, people are sick and tired of the status quo," he said.
Yin was raised in Washington state in Yakima where his parents ran a restaurant. His dad was an architect. He currently lives in Bellevue where he is raising three daughters. He is proud of the foundation he started for college students at the University of Washington, his alma mater.
"I know I can do more. This is a way to give back to the state."
Yin is vague about why he is running. When asked, he points to the responsibilities of the office. He would be the potential tie breaking vote in the Senate where Republicans currently hold a slim 25 to 23 majority. He also sees the office as a business ambassador for the state with the potential to bring in new jobs.
"My background in international business, trade issues and transportation make this a perfect fit," he said.
He sees both sides in the debate over affirmative action in both jobs and education saying everything should be merit based and no individual group should be discriminated against.
"It's not a black-and-white answer," said Yin about his position on the controversy.  "I appreciate affirmative action for opening up opportunities. We have to be careful of unintended consequences that could lead to discrimination."
11 of Washington's 15 Lt.Governors have been Republicans, but the state voted for Barack Obama in 2012 and elected a Democrat as its Governor, Jay Inslee, who is running for re-election. Democrats currently hold a narrow 50 – 48 edge in the House.
Yin cautions not to make too big of an issue of his affiliation with the Republican Party which has been criticized for its lack of diversity.
"Not all Republicans think the same, just as not all Democrats think the same. I stand on my personal record to embrace diversity. If that makes our party stronger, great. But I want to point out, the party doesn't define me. People define the party."
(Editor's Note: This story has been changed to clarify Yin's position on affirmative action)