By Ed Diokno

Lea Salonga told Playbill that despite the recent death of her father in the Philippines, she won't miss any Allegiance performance in which she is scheduled.
Rear Admiral Feliciano Salonga, died on Friday, January 29. He was 86 years old. Salonga was also a former Subic Bay Metropolitan Authority (SBMA) chairman, under former President Gloria Macapagal-Arroyo.
The Broadway star simply posted on her Twitter account the obituary that appeared the Philippine Star with the simple message, "Rest in peace, Dad."
In 2014, Salonga's father was one of the top SBMA officials who were indicted by the Office of the Ombudsman for violation of the Anti-Graft and Corrupt Practices Act or Republic Act (RA) 3019. The Ombudsman said that the SBMA executives "displayed manifest partiality and evident bad faith in the performance of their functions."
The accused were eventually dismissed from their positions.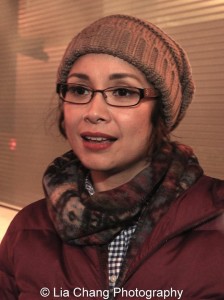 Allegiance, the musical based on actor George Takei's experience in interment camps during World War II, is due to close at New York's Longacre Theater on Feb. 14. Plans are afoot to bring the production on tour.
Salonga, who also is a judge in the Philippine version of The Voice, is also scheduled to appear in the finale of television's groundbreaking Crazy Ex-Girlfriend which is slated to air in mid-April.
Ed Diokno writes a blog :Views From The Edge: news and analysis from an Asian American perspective.)
(AsAmNews is an all-volunteer effort of dedicated staff and interns. You can show your support by liking our Facebook page at www.facebook.com/asamnews, following us on Twitter and sharing our stories.)