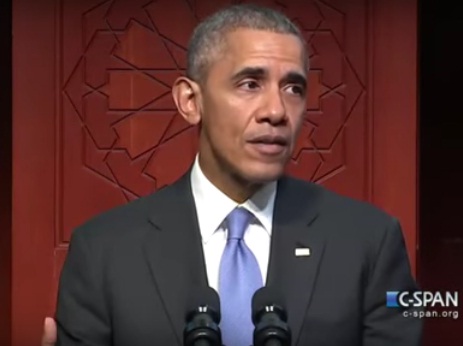 President Obama today made his "better late than never" visit to a US mosque, located at the campus of the Islamic Society of Baltimore.
According to the Washington Post , Obama began his visit with a roundtable with about a dozen Muslim leaders from around the country. Among the roundtable participants are Suzanne Barakat, a San Francisco doctor whose brother and sister-in-law were killed in the 2015 Chapel Hill killings; and Ibtihaj Muhammad, a member of the US fencing team who could very well be the first Olympian to compete in a hijab if she makes it to the 2016 Games in Rio. Read more about the other roundtable participants here.
At noon, Obama delivered remarks in front of about 200 people at the Islamic Society, mostly members of the mosque.
"It's an opportunity for the president to celebrate the contributions of the Muslim American community to our country," White House press secretary Josh Earnest said to the Baltimore Sun.
Obama describes the Islamic Society and the greater Muslim American community as an "all-American story". He describes it as a community where kids play sports, join the Scouts, a community with health clinics that serve the needy regardless of faith. He explains that, when listening to the stories of the roundtable participants, he "couldn't help but be inspired" by them, but also "heartbroken" by the hatred and anti-Muslim sentiment that Muslim Americans struggle with in the face of Islamophobia.
"It's a challenge to our values," Obama said.
He presented facts that are obvious to the Muslim American community, but are not regularly communicated with the general American public, including some interesting facts about Muslims in colonial America and the defending of the Muslim faith in the Virginia Statute for Religious Freedom.
"Muslim Americans enrich our lives today…Muslim Americans keep us safe…They are our police. They are our fire fighters. They're in [the Department of] Homeland Security." Obama went on to say.
He also acknowledged the existence of extremists in not only in the name of Islam, but across all faiths.
Obama gave points of "moral clarity".
"We can't suggest that Islam is the root of the problem..we must never give them that legitimacy…they're not defending Islam", he said of extremist groups like ISIL.
Obama also spoke to Muslim American youth. He acknowledged Muslim American teens' struggle to "choose between identities". "You fit in here, you're part of America, " he said. "You're Muslim and American, " affirming them in a way that can be relatable for all Asian Americans.
Watch President Obama's full speech here:
https://www.youtube.com/watch?v=MXRDocvDAK8

(AsAmNews is an all-volunteer effort of dedicated staff and interns. You can show your support by liking our Facebook page at www.facebook.com/asamnews, following us on Twitter and sharing our stories.)