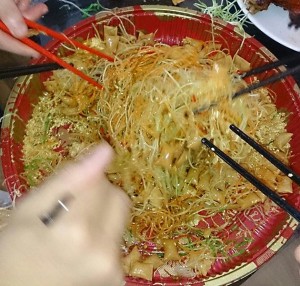 By Louis Chan
AsAmNews National Correspondent
The sweet smell of pineapple tarts bring back fond memories for Cheryl Tan every Lunar New Year.
Those tarts were a treat her late grandmother gave her each year to mark the holiday.
"These bite-sized buttery cookies topped with sweet pineapple jam are eaten in Singapore at Chinese New Year partly because pineapples, which are gold in color, are lucky," said Tan, author of A Tiger in the Kitchen.  "My grandmother was a formidable cook and her tarts were the best — so much so that she used to make thousands each year at Chinese New Year because so many people would request them."
Food is a big part of many Asian celebrations. Lunar New Year is no exception. The holiday which is based on the lunar calendar officially gets underway tomorrow, but kicks off today on New Year's Eve with many family gatherings and meals.
It is marked around the world, but primarily in China, Korea, Japan, Vietnam, Mongolia, Tibet and anywhere where there is a large Asian population including the United States.
Traditional dishes on Chinese New Year include a vegetarian dish made with algae. Chicken, fish and dumplings are also prominent, just to name a few menu items. Mandarin oranges are given as gifts along with red envelopes filled with lucky money. Chinese New Year is celebrated for 15 days.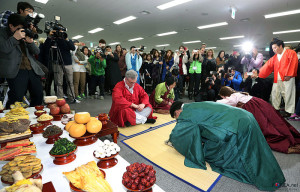 The Korean New Year is a bit more concentrated. It lasts three days. Also known as Seollal, traditional foods include a Korean pancake known as jeon and a popular soup served with rice cake, duk gook.
Tet or Vietnamese New Year is the biggest celebration in Vietnamese culture. Usual Vietnamese fare on Tet include crispy roast pork, and colorful sweet rice. "Visitors would bear gifts of candied shaved coconut, daikon, ginger and dried persimmons," said Sang Nguyen, a second generation Vietnamese American. "Of course, it would not be Tet without some Banh Chung (a traditional cake made of sticky rice, pork,
and mung bean wrapped in banana leaves). I like to eat it fried with honey and pickled shallots."
The Japanese also follow the lunar calendar, although shogatsu is now celebrated on January 1. Popular foods include boiled seaweed, fishcakes and mashed sweet potato with chestnuts.
As with the American Thanksgiving, Asians overindulge on the Lunar New Year. Elders encouraging the young to eat and it can be considered impolite to turn down their offer.
"Eating these treats weren't just about the tarts themselves," said Tan who will soon release her first novel,  Sarong Party Girls.
"The fondness of this memory lies in my grandmother pushing them towards me, nudging me to eat, because she knew how much I loved them. To this day, I always think of my grandmother and her love whenever I see a pineapple tart."

What are your Lunar New Year favorite foods and memories. Share them with us in the comment section below.

(AsAmNews is an all-volunteer effort of dedicated staff and interns. You can show your support by liking our Facebook page at www.facebook.com/asamnews, following us on Twitter and sharing our stories.)