By Ed Diokno
New Hampshire voters picked Bernie Sanders and Donald Trump as their preferences for the respective nominees for the Democratic and Republican parties.
There are not a helluva lot of Asian American voters in New Hampshire. They represent only 2.7% of the electorate, far below the 6% they represent nationally. For that matter, there aren't many African American, Latino Americans or anyone of color.  They are all below the national average. In fact, New Hampshire is one of the Whitest states in the country.
Maine tops the nation with 96.9 percent of its population described as Euro American, while 96.7 percent of Vermont (Bernie Sander's home state) and 96 percent of New Hampshire are descended from Europe, according to the census. All three were at least 98 percent white in the 1990 census.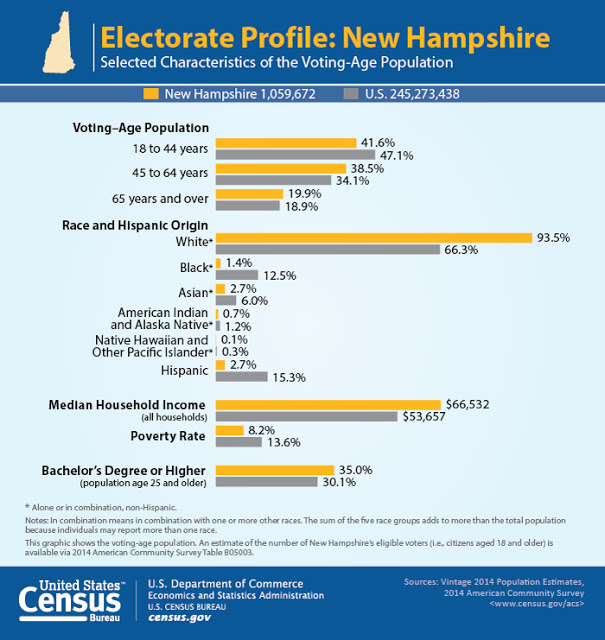 If voters braved the predicted snow storm, they will be asked to show a form of identification. This is the first election voters have been asked for ID since the law was approved in 2011.
If they don't show an I.D., precinct workers will take a Polaroid picture of the voter to verify that he/she is who he/she says they are. They will be mailed an affidavit which they will sign and mail back to make their vote official – a process that could take as long as a month.
Studies about why some eligible voters fail to vote suggest that the 
overall inconvenience of voting
—especially in states with increased legal barriers—factors heavily into why poorer, disproportionately black and Latino voters often fail to reach the polls.
So the picture-taking won't inconveniece a whole lot of people – just people who don't carry a government-issued I.D. around with them. A drivers' license or a U.S. Passport will do.
A student I.D. will work, too, unbeknownst to a lot of students. It seems the voter I.D. law was aimed at this particular group, who tend to vote liberal (i.e.. Democrat) and not toward racial minorities or immigrants as in other states.
The new law may have unintended consequences, too, especially among the elderly, many of whom have given up on driving and no longer have drivers' licenses.
However, immigrants will be affected, especially since so many of them work in the service sector jobs. Employers will normally allow workers off for an hour to cast their ballot, but if long lines form because of the more complicated photo-taking process, a long wait could deter citizens from doing their public duty. Iowa was just as white – and just as rural.
Immigration has not been a big issue in New Hampshire despite attempts by conservative news outlets to stoke anti-immigrant fears.
RELATED: GOP's new Southern strategy

The vast majority of minority voters are clustered around the urban centers. New Hampshire's largest city Manchester has only a population of about 110,000, about the size of an L.A. suburb. The entire state is about 1.3 million people, or about the same number of people living in Contra Costa County in the San Francisco Bay Area.
The issues that concern Asian American voters and other minority voters have not been addressed in these two highly scrutinized states.Outside of the fear-mongering, a serious discussion of immigration has hardly been addressed by either party's candidates.The problems that face cities and its residents – building more affordable housing, better transportation alternatives to the automobile, regional planning vs. local control, having good, equal education opportunities in a globally competitive world and down to simply fixing the potholes in our crumbling roadways – have scarcely been mentioned.Nevertheless, the outcomes of two of the most White and rural states in the country —  because of the media attention they receive — have a strong influence on the tone and course of the continuing conversation on who deserves to be the next President of the United States — even though Iowa and New Hampshire don't begin to represent the real diversity of our nation anymore.
Now, Nevada and South Carolina, next on the primary schedules, are a different story. Stay tuned.
 (Editor note: An earlier version of this story incorrectly stated the population of the San Francisco Bay Area. We apologize for the error.)