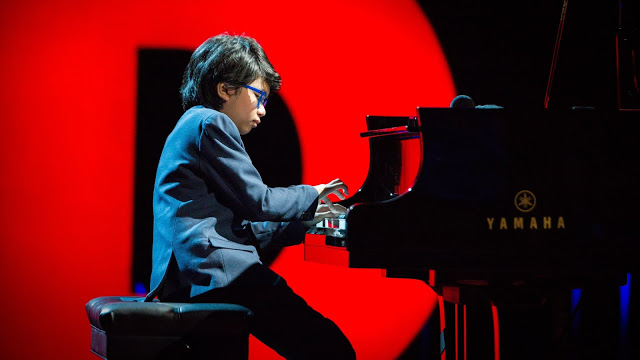 By Ed Diokno>

Joey Alexander has the world at its fingertips.
Unfortunately, the vast majority of the viewing audience won't be able to watch or hear 12-year old Joey perform and possibly receive his Grammy this Sunday (Feb. 14).
The Indonesian American wunderkind has been nominated for two awards in the jazz categories. He'll be featured in the Premiere Ceremony, which won't be televised.
The 2016 Grammy Awards Premiere Ceremony is when the first of the Grammy Awards' numerous winners will be announced. Jidenna, Lianne La Havas, Keali'i Reichel, Maria Schneider, Anoushka Shankar and Jimmy Jam are all scheduled to help present trophies, while comedian Jay Mohr will host.
RELATED: Who is Joey Alexander and why is he up for a Grammy?
The 2016 Grammy Awards Premiere Ceremony is scheduled to run from 3:30 p.m. ET until 6:30 p.m. ET, at the Microsoft Theater in Los Angeles, Calif. The ceremony will be streamed live via the 
Grammy Awards' official website
 and 
CBS.com
.
The regular 2016 Grammy Awards will air live on CBS on Feb. 15 beginning at 8 p.m. ET; 5 p.m. Pacific. 
Carrie Underwood
, 
Sam Hunt
 and 
Little Big Town
 are among the star-studded list of performers scheduled for the televised broadcast.
Since his debut when he was just a 10-year old, Joey has amazed the jazz world. His piano playing and his ability to improvise with the best of the best is mind-blowing.
When jazz great Wynton Marsalis first heard Joey Alexander play the piano, he was blown away. "I've never heard anyone who could play like him," he told Anderson Cooper on a 60 Minutes  piece aired last December.
For Marsalis, Joey's genius at such a young age remains a mystery. "Why? We don't know why," he tells Cooper. "I once asked Miles Davis about sound. 'Man, how you get the sound you get?' He said, 'Man, nobody knows about sound. Sound just is.' And I think that about his (Joey's) abilities. They are."
IN OTHER GRAMMY NEWS:
Mark Ronson's and Filipino American Bruno Mars' "Uptown Funk" was nominated in three categories: Record of the Year, Best Pop Duo/Group Performance and Best Arrangement, Instrumental or A Capella. Surprisingly, the Filipino American pop artist's video was snubbed in the Grammy's Best Male Video category despite winning the MTV awards in the same category. Uptown Funk" has a good chance to win in one of these categories after spending 14 weeks as No. 1 in the Billboard charts. But don't count out Taylor Swift's "Blank Space" and "Bad Blood."
The Filharmonics, the Filipino American a cappella group from Southern California, are featured in the movie Pitch Perfect 2, which is up for a Grammy in the Best Compilation Soundtrack for Visual Media category.
The King & and I 2015 cast album is up for Best Musical Theater Album and that features a host of Asian American cast members.

(Ed Diokno writes a blog :Views From The Edge: news and analysis from an Asian American perspective.)

(AsAmNews is an all-volunteer effort of dedicated staff and interns. You can show your support by liking our Facebook page at www.facebook.com/asamnews, following us on Twitter and sharing our stories.)