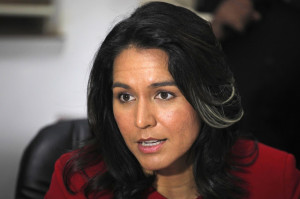 By Ed Diokno
One of the Democratic Party's rising stars may lose her spot on Hillary Clinton's Christmas card list. Rep. Tulsi Gabbard – the first Hindu and first Samoan American member of Congress and one of the first female combat veterans to win a house seat – resigned her position as vice chair of the Democratic National Committee.
And, as if to underline her dissatisfaction with the party machinery, she endorsed Sen. Bernie Sanders' bid for the Democratic nomination for the presidency.
"After much thought and consideration, I've decided I cannot remain neutral and sit on the sidelines any longer," she wrote in an email to fellow DNC officers obtained by Politico.
The congresswoman from Hawaii commended the Vermont senator for his foreign policy, and his opposition to the hawkish policies of fellow presidential candidate Hillary Clinton.
"There is a clear contrast between our two candidates with regard to my strong belief that we must end the interventionist, regime change policies that have cost us so much," Gabbard said.
"This is not just another 'issue.' This is THE issue, and it's deeply personal to me," said Gabbard, who is a combat veteran and still in the National Guard. "This is why I've decided to resign as Vice Chair of the DNC so that I can support Bernie Sanders in his efforts to earn the Democratic nomination in the 2016 presidential race."
"As a veteran and as a soldier I've seen firsthand the true cost of war. I served in a medical unit during my first deployment, where every single day I saw firsthand the very high human cost of that war," Gabbard said on NBC's Meet the Press,
Of the remaining Democratic candidates, Clinton is the more hawkish of the two, favoring a more interventionist policy in the Middle East. In 2014, she criticized President Obama for favoring a diplomatic resolution in Syria.
Sen. Bernie Sanders welcomed Gabbard's endorsement, calling her "one of the important voices of a new generation of leaders."
"There's a very clear contrast and clear difference when it comes to our two Democratic candidates and who will exercise good judgment, who will stop us from continuing these interventionist regime change wars that we've seen in Iraq and Libya and now in Syria that have cost our country so much in terms of American lives, trillions and trillions of dollars, what to speak of the hundreds of thousands of lives in the Middle East that have been lost to this and the impact on our economy here at home," Gabbard said to Politico.
"Bernie Sanders is that candidate who will not take us, service members and our country, into these interventionist wars and Hillary Clinton, through her record, has proven that she will continue that and that's what's important to me and I think it's important for our voters to know before they go and head to the polls in the coming weeks."
(Ed Diokno writes a blog :Views From The Edge: news and analysis from an Asian American perspective.)
(AsAmNews is an all-volunteer effort of dedicated staff and interns. You can show your support by liking our Facebook page at www.facebook.com/asamnews, following us on Twitter and sharing our stories.)