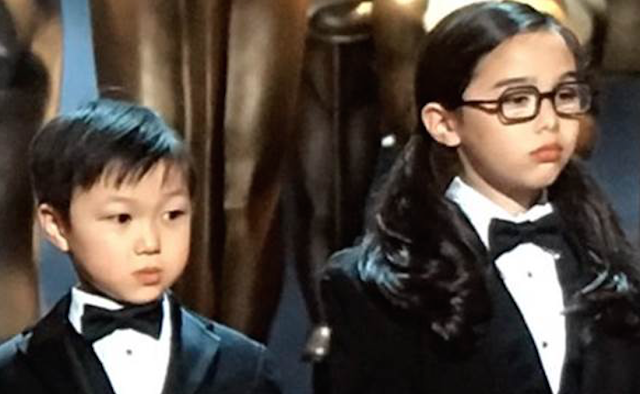 By Ed Diokno
Oscar's joke, at the expense of Asians and Asian Americans, continues to draw the wrath of the AAPI community days after the Academy Awards was aired.
The three Asian American youngsters brought on stage as the Price Waterhouse  Coopers accountants didn't know they were going to be the butt of the racist joke until the auditions and their parents apparently didn't understand their kids were going to be the butt of the joke until the night of the telecast.
In an NPR interview, Laura Kung, the mother of one of the kids, 8-year old Estie Kung, said: "In this case, it wasn't until the rehearsals, after Estie got her tux fitted and was already looking forward to the opportunity to be on the Oscars, that her parents heard the entirety of the joke for the first time. But they had already signed the contract and had to confront the very likely possibility that their daughter would be part of a racist joke that would cause an uproar. After talking to Estie, they ultimately decided to take the optimistic point of view, believing that an inappropriate Asian joke that might provoke a difficult public conversation may be preferable if the status-quo alternative was to have no Asian presence at all. So, they braced themselves."
RELATED: Chris Rock goes one joke too many
Host Chris Rock, who opened the awards show with a monologue addressing the lack of African American nominees in the Oscar acting categories, introduced the three young Asians as Ming Zu, Bao Ling and David Moskowitz, evoking the stereotype that Asians (and Jews) are good at math. If that wasn't bad enough, thesis, "If anybody's upset about that joke, just tweet about it on your phone that was also made by these kids," conjuring up the image of child labor abuse.
And it got worse. Sasha Baron Cohen told a joke about Asians asking why no Oscars were given to "short, yellow people with small dongs – you know, the Minions," bringing up the demeaning stereotype of Asian men. (I must have left the room to gag because I failed to mention this in my post immediately after the Oscars.)
Apparently, in Chris Rock's view, it is still a Black and White world. Latinos were not the butt of any jokes but they were not mentioned by the host either. Despite all the talk about inclusion and opportunity, it is still OK to make fun of Asians.
Hawaii 5-0 actor Daniel Dae Kim tweeted that the first reference to any ethnicity other than Black took 30 minutes, when "someone mentions 'pho.' I thought #diversity was more than that."
Little Estie is apparently quite a cook and a celebrity with Food Network viewers. Here she is in a guest appearance with late-night host James Cordon where her sparkling personality and composure is on display.
To parade little kids on stage w/no speaking lines merely to be the butt of a racist joke is reductive & gross. Antithesis of progress.

— Constance Wu (@ConstanceWu) February 29, 2016
Seriously though, when is this going to change?!? Tired of it being "cool" and "ok" to bash Asians smh #Oscars https://t.co/1nBvAd3V0q

— Jeremy Lin (@JLin7) February 29, 2016
Hey Asian kids, so you've never seen an Asian actor nominated in your lifetime, but maybe one day you can be a prop for a shit joke. #Oscars

— Angry Asian Man (@angryasianman) February 29, 2016
I'm not very good with math, but it doesn't take an Asian stereotype to count the # of successful Asian actors in Hollywood. #OnlyOnePercent

— CAROLINE ONE (@ONEx8) February 29, 2016
 "This was not OK and should never have happened," says Laura Kung. "But the angrier people are and more people talk about it, the better it will be moving forward. Estie hopes to keep acting and we all hope for a time when she can be on that stage to honor her achievement."
"It's hard seeing pictures of your daughter's very serious face on stage associated with all of this," says Estie's mother. "It's definitely been a damper to all the joy she felt just being there."
As for budding actress Estie, when asked if she thought the joke was funny, said, "Kind of … kind of not."
(correction: An earlier version of this article incorrectly identified Rock as starring in Rush Hour. We apologize for the error.)
(Ed Diokno writes a blog :Views From The Edge: news and analysis from an Asian American perspective.)
(AsAmNews is an all-volunteer effort of dedicated staff and interns. You can show your support by liking our Facebook page at www.facebook.com/asamnews, following us on Twitter and sharing our stories.)